English in red
We get 62 hours to run/walk 250km through the Belgian Ardennes in the winter. Hereby my report of an icy edition of the Legends Trail 2018!
LEVEL 1
Ga nou maar, ik hou je vandaag niet bij. Ik kan momenteel echt niet sneller, dit tempo blijf ik voorlopig lopen. Verder en verder verdwijnt het rode lampje van Maarten voor mij op het parcours. Ik loop na een kilometer of 20 alleen langs de Ourthe door de sneeuw en over ijzige rotsen. Het is een adembenemende omgeving en de sneeuw dempt al het geluid waardoor ik mij in een andere wereld waan. Ik heb nog niet echt een lekker ritme te pakken. Mijn hiel irriteert, ik vind het fris en de nacht zorgt ervoor dat ik geen zin heb om te eten waardoor mijn energielevel niet hoog genoeg zit. In La Roche rond de 30k kom ik bij een waterpost en staat Maarten net klaar om te vertrekken. Hij maant mij mee te lopen, maar ik weiger. Even zitten en bijkomen, opladen voor het tweede deel van level 1. Bij vertrek uit La Roche worden we getrakteerd op een prachtig uitzicht over het dorp en haar kasteel om vervolgens weer de witte bossen in te duiken.
Go on, I won't keep up with you today. I can't really speed up at the moment, I will continue to run this pace for the time being. Further and further, the red light of Maarten disappears before me on the course. After about 20k I walk alone along the Ourthe through the snow and over icy rocks. It is a breath-taking environment and the snow dampens all the noise that makes me feel like in another world. I do not really have a good rhythm yet. My heel irritates, it's cold and the night makes me want to eat so my energy level is not high enough. In La Roche around 30k I arrive at a water station and Maarten is just ready to leave. He pushes me to go on with him, but I refuse. Just want to sit and recharge, recharge for the second part of level 1. When leaving La Roche we are treated to a beautiful view of the village and its castle. Then we dive into the white forests again. Slowly it is getting better and I start to find a rhythm. The most important thing is that I do exactly what feels good at that moment and thereby completely draw my own plan. Serge must have noticed this too, which I have been running on for a while now. Just before CP1 we meet Maarten who has already left for CP2. His pace is good and we wish each other success. We check in at the checkpoint and Level 1 is done. It is a pleasant crowd of volunteers and runners. Everywhere dropbags with all kinds of stuff in it and everyone does what he / she needs to do for the next Level.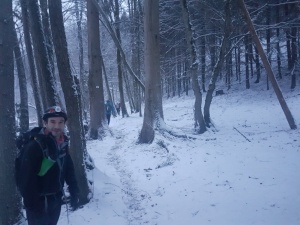 Langzaam aan gaat het steeds beter en begin ik een ritme te vinden. Belangrijkste is dat ik precies doe wat op dat moment goed voelt en daardoor volledig mijn eigen plan trek. Dit moet Serge ook gemerkt hebben waar ik op dat moment al een tijdje mee optrek. Net voor CP1 komen we Maarten tegen die reeds vertrokken is richting CP2. Hij loopt lekker en we wensen elkaar succes. We checken in bij het checkpoint en Level 1 zit erop. Het is een gezellige drukte van vrijwilligers en lopers. Overal dropbags met allerlei zooi erin en iedereen doet wat hij/zij nodig acht voor het volgende Level.
LEVEL 2
Serge en ik vertrekken samen met Alex, Ken, Tom, Oliver, Jozef, Peter en Eric. Een flinke groep die net een stukkie sneller lopen dan ik prettig acht op dat moment. Ik kies weer voor mijzelf en laat mij bewust een beetje afzakken. Niet veel later loop ik weer met Serge en even later sluit ook Alex zich bij ons aan. De vogels beginnen te fluiten en ook wij ontwaken in een magisch witte omgeving. Na een paar uur is Serge voor ons uit gelopen en heeft Peter zich bij Alex en mij aangesloten. Tijdens een race als Legends worden er continu nieuwe gelegenheidsgroepjes gevormd. We genieten volop van de zon en arriveren op een tussenstop waar we onze getergde lichamen even in een zetel kunnen laten bekomen. Richard geeft mij een blikje drinken en we ouwehoeren wat over de voortgang van de andere racers. Ik besluit verder te lopen in mijn T-shirt en we zijn weer op pad. Het is ongelooflijk dat ik in de nacht moeite had met warm blijven en dat ik 12 uur later in een T-shirt loop! Het ritme zit ondertussen goed en we ouwehoeren ondertussen een end weg. Tegen 1600u op zaterdag arriveren we bij CP2 en is ook Level 2 afgerond. Het begint ergens op te lijken. Ook hier weer een hoop bedrijvigheid en ik merk dat ik alles wat ik moet doen behoorlijk scherp heb. Ik heb focus en voel een enorme dosis vastberadenheid.
Serge and I leave together with Alex, Ken, Tom, Oliver, Jozef, Peter and Eric. A large group that is just a bit quicker than I like at that moment. I choose for myself again and consciously let myself slow down a bit. Not much later I walk with Serge again and a bit later Alex joins us too. The birds start to whistle and we also wake up in a magically white environment. After a few hours Serge went ahead and Peter joined Alex and me. During a race like Legends, new occasional groups are formed continuously. We fully enjoy the sun and arrive at a stopover where we can get our tormented bodies in a seat for a moment. Richard gives me a can of drink and we talk about the progress of the other racers. I decide to continue walking in my T-shirt and we are on the road again. It is unbelievable that I had trouble staying warm in the night and that I was in a T-shirt 12 hours later! In the meantime the rhythm is good and in we are giving away an end. We arrive at CP2 at 1600h on Saturday and Level 2 is also completed. It starts to look like something. Again a lot of activity and I notice that everything I have to do is pretty sharp. I have focus and feel a huge dose of determination. 
LEVEL 3
Voordat het donker wordt zijn we vertrokken van CP2 om Level 3 aan te gaan. Het gelegenheidsgroepje is nu Alex, Ingo, Peter en ik. Nu is het begonnen weet ik, want deze etappe is parcours-technisch zwaar, metaal zwaar en slaap-technisch zwaar. Als we slechts licht de druk op het tempo houden dan zouden we met een tijdsmarge op CP3 moeten aankomen. We worden al snel de berg opgestuurd en er volgt een steile klim gevolgd door een steile afdaling. Zo, we zijn wakker geschut! Alex zijn we uit het vizier verloren, hij is achterop geraakt en blijkt later te zijn uitgestapt vanwege maagklachten. Wij worden ondertussen de volgende berg opgestuurd, ik denk de Chefna, aangezien we eindeloos aan het klimmen waren. Nadat we eindelijk boven waren verwachte ik toch enigszins een fijn afdaling, maar dat is niet helemaal het type afdalingen waar Stef en Tim bekend om staan. Na een derde tergende klim beginnen we aan de afdaling langs de Ninglinspo……. Serieus?! Ik weet niet welke ijselfen hier bezig zijn geweest, maar dit was echt categorie schaatsen onderbinden en gaan. Rivier, watervallen, rotsen, paden, bomen, planten, maar dan ook echt alles zat onder een dikke laag ijs en wij moesten daar naar beneden. Ik besloot de gladheid te negeren en gewoon af te dalen. Aangezien ik toch al in een sluimerzone zat en alles ook prima een droom kon zijn. Met beleid daalden we zonder kleerscheuren af en stapten we een uurtje later tevreden weg van de Ninglinspo. Het slaaptekort begon wel aardig zijn tol te eisen en Peter en ik begonnen elkaar uit te dagen door rekensommen aan elkaar te geven. Goeie bezigheid totdat we een half weggerotte schuur in het bos zagen en onze kans grepen om even een powernap te doen. Ingo wilde door en vervolgde zijn weg alleen.
Before it gets dark we left CP2 to enter Level 3. The occasional group is now Alex, Ingo, Peter and me. Now it has started, I know, because this stage is trail-technically hard, mentally difficult and sleep-technically difficult. If we just keep the pressure on the pace, then we should have to arrive at CP3 with a time margin. We are quickly sent down the mountain and there is a steep climb followed by a steep descent. So, we are awakened! We lost Alex, he fell behind and later it turned out he had stomach problems. We are now sent up to the next mountain, I think the Chefna, since we were climbing endlessly. After we finally got up I expected a nice descent, but that is not exactly the type of descents that Stef and Tim are known for. After a third provocative climb we start the descent along the Ninglinspo ……. Serious?! I do not know which ice wizards have been involved here, but this was really a category skating and skiing. River, waterfalls, rocks, paths, trees, plants, everything was covered by a thick layer of ice and we had to go down there. I decided to ignore the slipperiness and just descend. Since I was already in a slumber zone and everything could also be a dream. With patience we went down unscathed and we moved away from the Ninglinspo an hour later. The sleep deprivation started to take quite a toll and Peter and I started to challenge each other by giving maths to each other. We persist till we saw a half rotten barn in the forest and grabbed our chance to do a powernap. Ingo wanted to continue and continued his way alone. Not much later Peter and I left again because sleeping didn't work out as it was a few degrees freezing and the wind was exactly wrong. Peter de Krijger has often run multi-day trails with little sleep, so I knew we could use each other's experience. We ran after each other like zombies and sometimes tried to have a conversation again go, but the fatigue continuously threw a spanner in the works and the only thing we were looking for was a place to sleep for a while. At the bottom of a descent we saw our chance. A layer of straw lay across a meadow. That should isolate, I thought, and we lay down. At least a minute or five well deserved sleep. A world of difference and we were able to move forward an hour before the whole thing started again and the need for a place to sleep grew by the minute. 
Niet veel later vertrokken Peter en ik ook alweer want slapen lukte voor geen meter aangezien het een paar graden vroor en de wind precies verkeerd stond. Peter de Krijger heeft al vaker hachelijke meerdaagse trails gelopen met weinig slaap, dus ik wist dat we veel aan elkaar konden hebben die nacht. We liepen als zombies achter elkaar aan om soms weer te proberen een gesprek aan te gaan, maar de vermoeidheid gooide continu roet in het eten en het enige waar we nog naar op zoek waren, was een plekje om heel even te slapen. Onderaan een afdaling zagen we onze kans schoon. Tegenover een weiland lag een laag stro. Dat moet isoleren dacht ik en we gingen liggen. Toch zeker een minuut of 5 heerlijk geslapen en weer verder. Een wereld van verschil en we konden weer een uurtje vooruit voordat het hele gedoe weer opnieuw begon en de behoefte naar een slaapplek met de minuut groeide. Vanuit mijn ooghoeken zag ik overal schuurtjes en bankjes, maar als ik dan naar links of rechts keek waren er geen schuurtjes of bankjes en viel ik bijna om omdat ik niet op mijn voeten lette. Na een eindeloze zombie tocht vinden we eindelijk weer een onderkomen. Deze keer een houthok en we gaan op de stapels hout liggen. Heerlijk oneffen bedje, maar dat boeit niet! Wederom een minuut of 5 en we zijn weer het baasje! Nu is het niet zo ver meer en we lopen de laatste kilometers naar het checkpoint waar we op zondagochtend voor 700 uur arriveren. Level 3 completed! Ik hoop dat Maarten er nog is zodat we misschien met hem meekunnen vanaf daar. Hij ligt nog te slapen als ik binnenkom. Ik regel mijn dropbag snel en eet wat. Peter en ik spreken af hoe lang we gaan slapen en zetten de wekker. De wekker gaat in no time en ik snooze dat ding. Bijna meteen gaat ie weer af. Jeetje, give me a break, ik wil slapen! Echter is het feest nog niet voorbij en begin ik mijn slaapspullen in te pakken. Peter doet hetzelfde. Beneden aangekomen zitten Maarten en Martino te eten en zich klaar te maken voor vertrek. Wij gaan zegt Maarten en ik zeg dat Peter en ik over 5 minuten gaan. Dan gaan we samen zegt Maarten verheugd.
From the corner of my eye I saw sheds and benches everywhere, but when I looked left or right, there were no sheds or benches and I almost fell because I did not notice my feet. After an endless zombie journey we finally find a shelter again. This time a wood dock and we lied down on piles of wood. Lovely uneven bed, but that didn't matter! Again a 5 minute or so and we were the boss again! Now it is not so far anymore and we walk the last kilometers to the checkpoint where we arrive on Sunday morning for 700 hours. Level 3 completed, 162k done! I hope Maarten is still there so we might be able to go with him from there. He is still asleep when I come in. I quickly arrange my drop bag and eat something. Peter and I agree how long we go to sleep and set the alarm. The alarm goes in no time and I snooze that thing. Almost immediately it goes off again. My god, give me a break, I want to sleep! However, the party is not over yet and I start packing my sleeping stuff. Peter does the same. Downstairs Maarten and Martino are eating and getting ready for departure. We are going says Maarten and I say that Peter and I are leaving in 5 minutes. Maarten is happy to hear that and we leave CP3 together.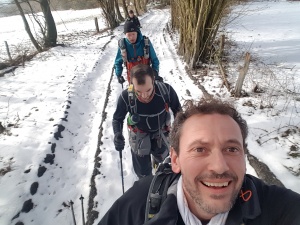 LEVEL 4
Ongelooflijk wat een beetje daglicht kan doen. De kilometers van Level 4 gaan lekker rap voorbij. De etappe is ook maar 39k, met relatief weinig klimmen en dalen. Ons groepje wordt regelmatig groter en kleiner doordat de Belgengroep Ken, Jozef, Eric, Peter, Nico en Tom ongeveer hetzelfde tempo lopen. Ondanks dat we met een grote groep lopen, weten we verkeerd te lopen…. Wiens fout is dat nou? Ik houd het op de Belgen, het is tenslotte hun land 😉 De sfeer zit er goed in en we vorderen gestaag. Uiteraard is het nog steeds overal glibberen en glijden, maar daar zijn we ondertussen experts in geworden. Na een kilometer of 10 worden we wederom getrakteerd op een verrassingspost en krijgen we een warme chocomel, heerlijk! Het is sowieso een hele relaxte etappe, alsof de strijd al geleverd is. Level 3 was zo heftig dat dit een soort van uitlopen is. Onderweg komen we ook continu vrijwilligers en supporters tegen, echt een feestje!
Unbelievable what a little daylight can do. The kilometers of Level 4 are passing quickly. The stage is only 39k, with relatively little climbing and descending. Our group is regularly getting bigger and smaller because the Belgians Ken, Jozef, Eric, Peter, Nico and Tom run at the same pace. Even though we walk with a large group, we make an navigational error …. Whose mistake is that? I blame it on the Belgians, it is their country after all 😉 The atmosphere is good and we are progressing steadily. Of course it is still slithering and sliding everywhere, but we have become experts in the meantime. After about 10k we are treated to a surprise post and we get a hot chocolate, delicious! It is a very relaxed stage anyway, as if the fight has already been delivered. Level 3 was so intense that this is a kind of walk in the park. Along the way we also meet volunteers and supporters, a real party! I also get more and more energy and start to feel stronger and stronger. At 6k before the checkpoint I decide to run and I only stop when I am at the checkpoint. I have a nice 15 minutes extra on the checkpoint to put my affairs in order for the all decisive Level! Level 4 is over and I run into the checkpoint! 202k done! A warm welcome from the volunteers and I will be pampered immediately. Bottles filled, glass of cola, food, feet blown dry, blisters are punctured and taped, shirt and shoes are dried. I feel like a stinking Legends prince. We do not have a lot of time, because at 2000 hours we have to leave the checkpoint. A small margin for the last part is fine, so we agree to leave at 1900.
Ik krijg ook steeds meer energie en begin mij sterker en sterker te voelen. Op 6k voor het checkpoint besluit ik te gaan hardlopen en ik stop pas als ik bij het checkpoint ben. Heb ik mooi een kwartiertje extra op het checkpoint om mijn zaakjes op orde te stellen voor de alles beslissende Level! Level 4 zit erop en ik ren het checkpoint in! Een warm onthaal van de vrijwilligers en ik wordt direct in de watten gelegd. Flesje gevuld, glaasjes cola, eten, voeten worden droog geföhnd, blaren worden doorgeprikt en ingetaped, shirt en schoenen worden gedroogd. Ik voel mij een stinkende Legends prins. Heel veel tijd hebben we niet, want om 2000 uur moeten we het checkpoint verlaten hebben. Een kleine marge voor het laatste gedeelte is wel fijn dus we spreken af om 1900 uur te vertrekken. Al met al krijgen we het voor elkaar om 1915 te vertrekken.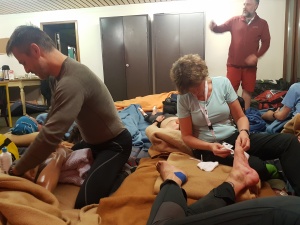 LEVEL 5
Maarten, Peter, Tom en ik vertrekken voor het finale Level 5. Met op onze hielen Oliver en Paige, zij halen ons na een kilometer of twee bij en we lopen met zijn zessen verder. Nog steeds geen haar op mijn hoofd die eraan twijfelt of ik zal finishen. De kilometers gaan nog steeds gestaag voorbij en we glijden verder richting de Baraque de Fraiture. Bijzonder hoe makkelijk Paige zich over het ijs beweegt! We weten allemaal zonder vallen onderaan de Baraque te komen. Slaapdeprivatie heeft ervoor gezorgd dat Oliver achterop geraakt is en zodoende komen we met zijn vijven aan op checkpoint Chez Ingo op 225k. Een verwarmde tent met heerlijke stoelen, muziek, soep en tosti's. Lijkt wel een droom! Het liefste blijven we zitten, but we didn't kill the Legends Bitch yet! Dus allemaal weer uit onze luie stoel de ijsbaan op richting de finish! Hoe graag ik ook wakker wil blijven, het lukt maar nipt. Ik probeer wat voor de rest uit te lopen en ga dan snel even ergens liggen, maar telkens moet ik binnen een minuut verder. Tom en Paige zijn sowieso niet van plan om nog lang erover te gaan doen en 10k voor de finish gaat Tom er vandoor. Ondertussen loopt Ingo wel weer met ons mee en zijn we nog steeds met vijf man.
We manage to leave at 1915h. Maarten, Peter, Tom and I leave for the final Level 5. Right behind us leave Oliver and Paige, they reach us after a kilometer and we walk on with the six of us. Still no hair on my head (Dutch expression which means, with no doubts) that doubts whether I will finish. The kilometers are still steadily passing and we continue towards the Baraque de Fraiture. Unbelievable how easily Paige moves over the ice! We all manage to make it at the bottom of the Baraque without falling. Sleep deprivation has caused Oliver to fall behind and so we arrive at checkpoint Chez Ingo at 225k with the five of us. A heated tent with lovely chairs, music, soup and sandwiches. Seems like a dream! We prefer to stay, but we did not kill the Legends Bitch yet! So, all of us out of our lazy chair to the ice rink towards the finish! As much as I would like to stay awake, it is only a matter of time falling asleep. I try to run in front of the rest and then quickly lie down somewhere, but every time the rest picks me up quickly. Tom and Paige are not going to slow down or sit down anymore and 10k before the finish Tom goes off.
Meanwhile, Ingo is walking with us and we are still with a group of five. I have not been talking for a few hours and I watch the meters countdown on my GPS. Every now and then I go wrong and I call to the others that everyone has to navigate tool because I really do not understand it anymore every now and then. After another navigational error, we hear Ingo vaguely shout. Irritated I go to Ingo's side. I want him to take the lead because he has explored the last piece, and fortunately he had already thought of that himself. There is another slippery stretch along a river where full focus is necessary. Then we are sent up, probably the steepest climb of the entire trail and of course Stef and Tim managed to process a steepest descent in the course at 2k before the finish. But it does not matter anymore and the adrenaline and endorphins start to bubble up with everyone. The pace goes up even though we climb and fall over ice plates. Less than a kilometer to go and I just put an arm around Maarten. We have made it, I say. Finally after 3 years we will finish that bloody thing together, as planned! The last meters are going up and we are running alongside each other with the five of us! Paige, Peter, Ingo, Maarten and I finish Legends Trail 2018 in 60h38m. We nailed the icy Legends Bitch !!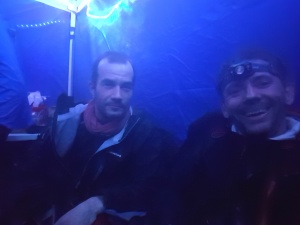 Gesprekken voer ik al een paar uur niet meer en ik kijk de meters van mijn GPS. Zo nu en dan loop ik verkeerd en ik roep naar de anderen dat iedereen goed moet mee navigeren omdat ik het echt niet meer snap zo nu en dan. Nadat ik de groep wederom de verkeerde kant mee opneem, horen we Ingo vaag roepen verderop. Geïrriteerd ga ik de kant van Ingo op. Ik wil dat hij voorop gaat lopen omdat hij het laatste stuk verkend heeft, en dat had hij zelf gelukkig ook al bedacht. Er volgt nog een glibberig stuk langs een riviertje waarbij volle focus noodzakelijk is. Daarna worden we omhoog gestuurd, waarschijnlijk de steilste klim van de hele trail en uiteraard wisten Stef en Tim op 2k voor de finish ook nog een steilste afdaling in het parcours te verwerken. Maar het deert allemaal niet meer en de adrenaline en endorfine begint bij iedereen op te borrelen. Het tempo gaat omhoog ondanks dat we klimmen en dalen over ijsplaten. Minder dan een kilometer te gaan en ik sla even een arm om Maarten. We hebben het geflikt zeg ik. Eindelijk na 3 jaar finishen we dat klere ding samen, zoals gepland! De laatste meters gaan omhoog en die leggen we met zijn vijven naast elkaar hardlopend af! Paige, Peter, Ingo, Maarten en ik finishen Legends Trail 2018 in 60u38m.
We nailed the icy Legends Bitch!!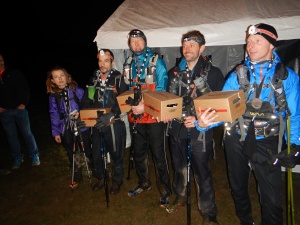 Stef en Tim, hartelijk dank voor dit klote parcours! Uitmuntend gepland met de vorst, ijzel en sneeuw!
Uiteraard een groot applaus voor alle vrijwilligers, zonder jullie hadden wij niet kunnen presteren! Ik kan jullie niet allemaal persoonlijk noemen omdat ik niemand wil vergeten. Hartelijk, hartelijk dank allemaal!
Mede deelnemers, bedankt voor dit gezellige weekendje weg! En als het niet gelukt is, dan volgend jaar weer!
Aan alle supporters hartelijk dank voor de aanmoedigingen.
Mijn lieve Wendy, dank voor je support en dat je er voor mij bent!
Stef and Tim, thank you very much for this fucking course! Excellent planning with the frost, sleet and snow!
Of course a big applause for all volunteers, without you we could not have performed! I cannot mention you all personally because I do not want to forget anyone.
Thank you very much, everyone, thanks, for this pleasant weekend! And if it is not successful, then next year again!
Thank you to all supporters for the encouragement.
My dear Wendy, thank you for your support and that you are there for me!
Waar was François? Helaas uitgestapt na 30k vanwege een val op zijn elleboog.
Nog meer leed? Ja Arnoud Brührs heeft zijn been gebroken.
Gewicht van mijn racevest voor de start, 5,3kg.
Ik heb 1 paar schoenen gebruikt. Speedcross waar ik reeds 800km op gelopen had.
Geen spikes of microspikes gebruikt, simpelweg omdat ik deze niet had.
4 paar zomersokken van de Decathlon had ik nodig.
Slechts 1 vrouw haalde de finish, Paige Morrow!
Where was François? Unfortunately got out after 30k because of a fall on his elbow.
Still more suffering? Yes, Arnoud Bührs broke his leg.
Weight of my race vest before the start, 5.3kg.
I used 1 pair of shoes. Speedcross where I already walked 800km.
No spikes or microspikes used, simply because I did not have.
4 pairs of socks from the Decathlon I needed.
Only 1 woman reached the finish, Paige Morrow!
Parcours ten opzichte van 2016 was een stuk technischer doordat het overgrote deel bedekt was met een laag ijs en daarover een laag sneeuw.
Mijn mentale gesteldheid ten opzichte van 2016 was een stuk aangenamer. Met veel meer zelfvertrouwen ging ik van start omdat ik wist wat er zou gaan komen en ik wist dat er verrassingen zouden komen die ik op voorhand accepteerde.
Mijn voedsel bestond voornamelijk uit bifi worstjes en stroopwafels tijdens het lopen. Op de verzorgingsposten een heerlijke warme maaltijd.
Slapen heb ik alleen op CP3 gedaan gedurende 45 minuten geloof ik. Verder tussen de CP's powernaps van max 5 minuten.
Nadien dronk ik 4 Kerel's, vervolgens viel ik onder de douche in slaap, maar viel ik net niet.
Voor hielspoor heb ik een remedie gevonden. Als je 250k gaat lopen, gaat het gedurende de race vanzelf over! Echt een aanrader. Of…….hielspoor is aanstellerietus.
Maarten, Legends Trail 2019? Ik zeg geen ja, maar ook geen nee…….
Course compared to 2016 was a lot more technical because the vast majority was covered with a layer of ice and a layer of snow on that.
My mental attitude to 2016 was a lot more pleasant. With a lot more self-confidence I started because I knew what was coming and I knew that there would be surprises that I accepted in advance.
My food consisted mainly of bifi sausages and stroopwafels during walking.
At the checkpoints a delicious warm meal.
I only slept on CP3 for 45 minutes, I believe. Further between the CP's power naps of max 5 minutes.
Afterwards I drank 4 Kerel beers, then I fell asleep in the shower, but I just did not fall.
I found a cure for my heel. If you walk 250k, it will heal automatically during the race! Really recommended.
Maarten, Legends Trail 2019? I don't say yes, but also don't say no …….