Putting the last words first… Thanks 2 the volunteers, love you guys & girls.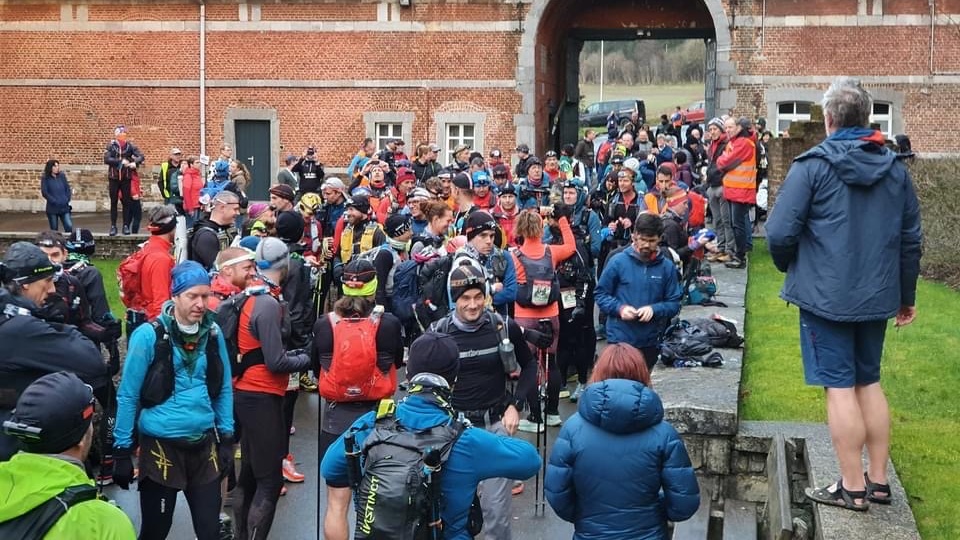 Ramones – Rock N' Roll High School
The kids were out in the playground, all dressed up very trail-chic in their uniforms. The popular kids were talking, joking, laughing and seemed to know everyone, the new kids were well… they were new but they blended in beautifully. Always that sense of solidarity at the start of a true ultra.
Excitement was in the air, the fresh smell of adventure, the anxiousness of not knowing what would come.
The grey schoolmaster in blue short trousers up on a ledge was saying something that only the new kids were paying attention to. And soon all the schoolkids were off. The schoolmaster looked at them fade into the distant forest, he smiled and went inside, nice and warm. He knew this would be a looooooong sleepless weekend.
AC/DC – Highway to Hell
The first stretch to CP1, wow it went fast, to fast in my humble opinion, but as many times before nobody asked if the pace was not too high. No Emile Zatopek's that day.
They have no mercy with old men, alas.
So I was content in following the front runners from a respectable distance.
Survivor – Eye Of The Tiger
Sometimes you see 'the look'. You just know that nothing is gonna stop that person from reaching the finish. No mather what. In Forrest Gump Lieutenant Dan takes on a monster storm high up their schrimpboat while shouting to God: Is that all you've got?? That's the look and attitude i mean.
I saw that look and attitude on a photo of Christof S… He just fell into the Ourthe twice just before this picture was taken. Nothing-is-gonne-stop-this-dude-expression.
Picture of 'the look' and picture of the finish line together with old timer Maarten together with Tim and Ilse (behind every great man…). It's corny to say but seeing someone else finish that had to put a lot more effort into the damn thing is more satisfactory to me than my own finish. So, cheers to you Christof and thanks to Maarten for being his mentor and guardian angel.
DAAN – Victory live@Ferrières
Between CP1 and 2 I hooked up with Wesley, one of the popular kids. Knowing him is loving him. 
Together we overcame all the beautiful shit the Ardennes put in our path and after cp2 came cp3.
At CP3 the frontrunner Florentin was almost ready to leave, but somehow, he kept changing his outfit and rearranging his dropbag.
A few minutes after he left, I was ready, Wesley said 'go get him' (but then in Dutch, would be silly in English). He wanted to stay a little longer at CP3.
The first 15k after cp3 I ran together with Florentin. And I thought that I had a problem, he ran faster uphill and downhill, in the flat sections he was kinda slower but there are not that much flat sections. And all of a sudden, his engine ran out of gas…
So that left me in the front, ok so be it.
Enjoying the last stretch of 68 kilometers. Difficult but charming and interesting. I liked it, thanks Tim & co.
Made it, together with 42 other winners. Double respect for the runners that faced the third night.
For the ones that suffered but did not make it… tackle the problems that put a stop to your adventure and next year we will see each other. If I can help with advice feel free to contact me.
Last words last : Dank u Tanja (mijne mental, fysical, personal,…coach 😊), Mario, Ria, Mathias, Stefanie, Miguel, Debbie… voor een mooi weekend en de aanmoedigingen onderweg.
Ivo Steyaert (de LT TGV volgens Martino 😊)
---
My Previous race reports:
22-03-2018 – Legends 2016 – 2017 – 2018 – A boringly serious race report