About a year ago I finished the Legends Trail and a I remembered I said to myself I wouldn't do it again. Not for the distance or the terrain but like Been There, Done That, What's Next!! There are so many races where I want to be part of. It's because I can always see the bottom of my wallet that makes me decide what is doable. Will I do a race for the second time or will I spent my money on something new from the bucket list.

HQ in Mormont
Still I wanted to be a part of Legends Trail and signed up for volunteering during last weekend. During the last months I was sure I made the right decision, but last week when I was reading about the preparations of the participants on Facebook I started to doubt my decision. When I arrived at Mormont at Thursday evening Tim was standing outside the Gite. I said maybe I regret my decision of not signing up a little. Instead of reacting maybe next year he answered "You still can sign up, no problem." From that moment on, till about one hour before start, I doubted will I start or stick to volunteering. I had a complete racingkit in the back of my car. If I wanted to race I could. Maybe next time I have to let the gear at home. Texting my wife and son about my doubts, they reacted like, can you do it ,do you want to do it, if so go for it, we believe you can. Not really helping.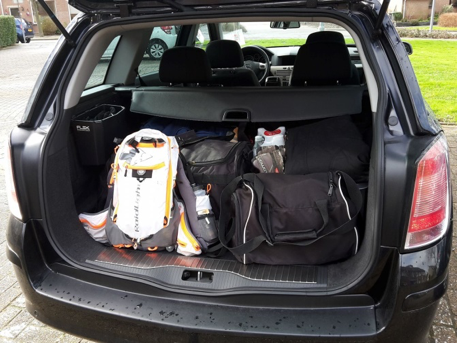 A complete racingkit…
So I went inside the Gite and started working in the kitchen for food prep which I was signed up for. Meanwhile the brains are fully working what to do about registration. Lucky that Frederique gives me some distraction, a Paprika and something like Sellery. It's because I don't eat vegetables I must be looking like water on fire. What the hell do you want to do with it and how do have to prepare something like this. The people of the kitchen crew learned me to cut the vegetables. They want me to cut it in large pieces which makes me happy because when I have to eat it later I can easily spoon around the veggies.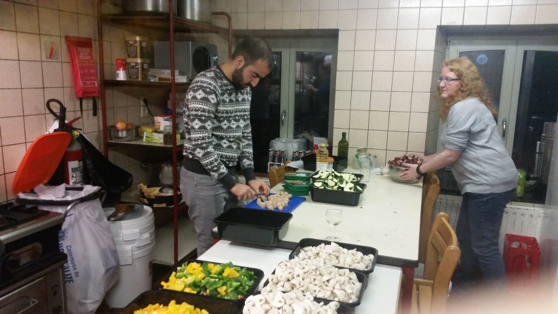 Big chunks of veggies
After the first round of prep we sat down with a couple of Chouffes, maybe the Chouffes will clear my mind. (Not !!) About 4 o'clock I went to bed for some sleep because it will be a long weekend no matter if I will run or stick to volunteering. My brain in combination with people snoring keeps me awake and I give up about 6:30 a.m.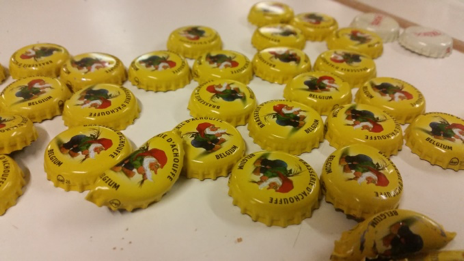 Chouffes makes decisions easier (NOT!!)
Walking around and helping of in the kitchen, washing dishes and cutting again more veggies time flies till 12:00. I drove to the starting location in Achouffe to do the gearcheck of runners who were arriving. When all runners were checked in I decided about 17:00 h I would stick to the plan of volunteering.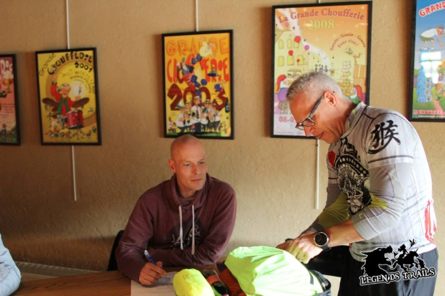 Francois Flisijn got his gearcheck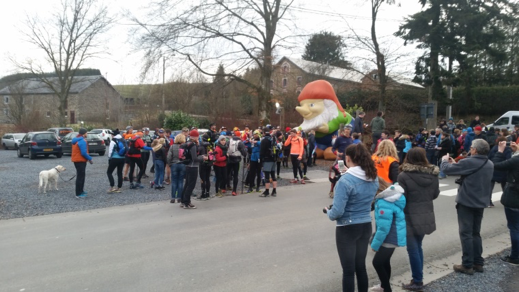 Start of Legend Trails 2017
At 18:00 the runners started and I went off to the first checkpoint about 12K from the start. I stand here with Roland and Mark which makes us Legend Safety Team 2. To check if all trackers are working well and to check all numbers will pass in the dark. At this stage it is a hell of a job because all runners are still close together and when a group of 15 runners passes, you have to try to get all of them. Lucky for us Stef arrived to bring us some food and Stef stayed till the last runner had passed. Stef recognized almost all runners by face so it was a lot easier for us to check everybody of the list.
After this point LST2 hopped along the Legend Trail to several places along the route. To help where help was needed. So we stood at Cp 1, Cp1.1, C.p.3.2, Cp4 and later at the finish. I already knew because I ran this race before that the HeadQuarters is always following every runner with an eagle eye. The last runner is equally as important as the frontrunner. For people at home watching dots and eating their fingernails and for all participants Big Brother is watching you. More than I even knew before. When the weather was changing LST got a phone call from HQ to move to points along the route to check if everybody is okay and if something would happen, we would be there in the shortest possible time to reach the runners.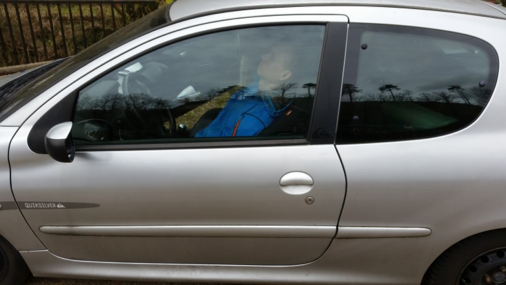 Ready for some action
Although I doubted my decision to volunteer, I am glad I did. I'm proud to be part of this organisation which feels like family. Running or volunteering. I'm very impressed by the organisation behind the scene. The Kitchen, the medical, the Panic Room Guys, all the safety teams, logistics teams, media team, Stef and Tim and probably a lot of people I forgot.
At least I will thank everyone who has made this weekend great for me. Participants and volunteers. I congratz all finishers and hope that everybody had a good time. For people who had to give up, get yourself together and come back next year. There were people who DNF last year and became a Legend this year, also there were Legends from last year who DNF this year. There will be a year that will be your year.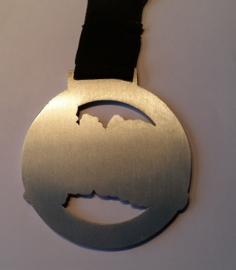 Never give up, go the distance and become a Legend. I've had many laughs and met a lot of new people/friends. Especially Frederique many thanks for the veggie free food. Next year I will be back running or volunteering……or running…..or volunteering….. anyway I'll be back.
Peter Swager
P.S. Stu? Did I agree to run The Spine? I remember a handshake, but maybe it was a hallucination after many hours of sleep deprivation. Right?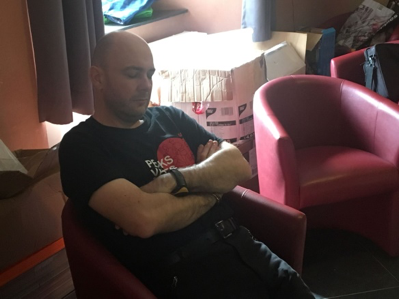 Stu dreaming of a handshake.