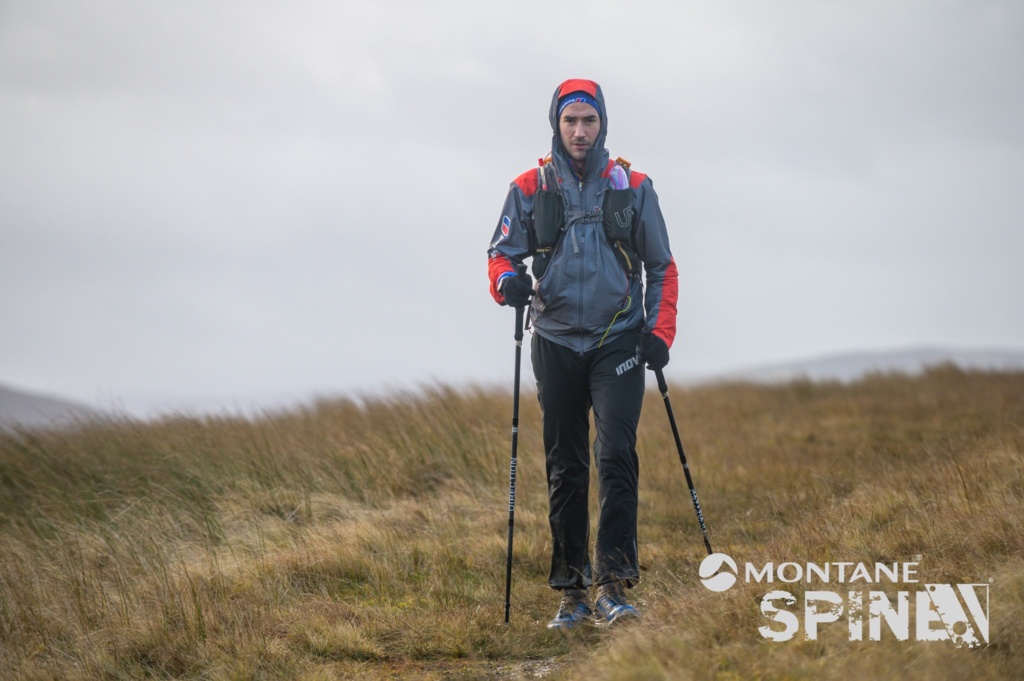 Proloog 1: Spine Challenger 2019
As I was chasing Jim Mann during the 2019 Spine Challenger I noticed that I a lot of the terrain and scenery felt familiar. I only had been there twice, but it didn't feel like exploring and going on an adventure anymore. The thing I love the most about running ultra's and adventure racing is the sense of adventure and exploration and visiting new and exciting places. 2019 was the year to defend my title and test myself against Jim. After finishing I told myself that if I was coming back it would be to race the real deal, the Spine Race. I was curious to see what's comes after Hardraw.
Proloog 2: Summer 2019
During the summer of 2019 I developed a more and more serious back problem. However, as I was travelling around Scandinavia and the Baltics with my wife and our campervan, I was unable to get treatment from a physiotherapist as we were constantly on the move. Early September we came home, upon which I immediately visited a physiotherapist who told me that my L3 of my Spine (how ironic) had been overloaded as a consequence of training and racing. The mattress of the campervan had not helped either. I was going to need weeks of treatment. I couldn't run more than 20 minutes due to the pain and stiffness of my back and hips. I had planned my training schedule to start my Spine training at the beginning of august. So already I was behind on my schedule. And so I started doubting that racing the Spine Race 2020 might not be the best of my ideas.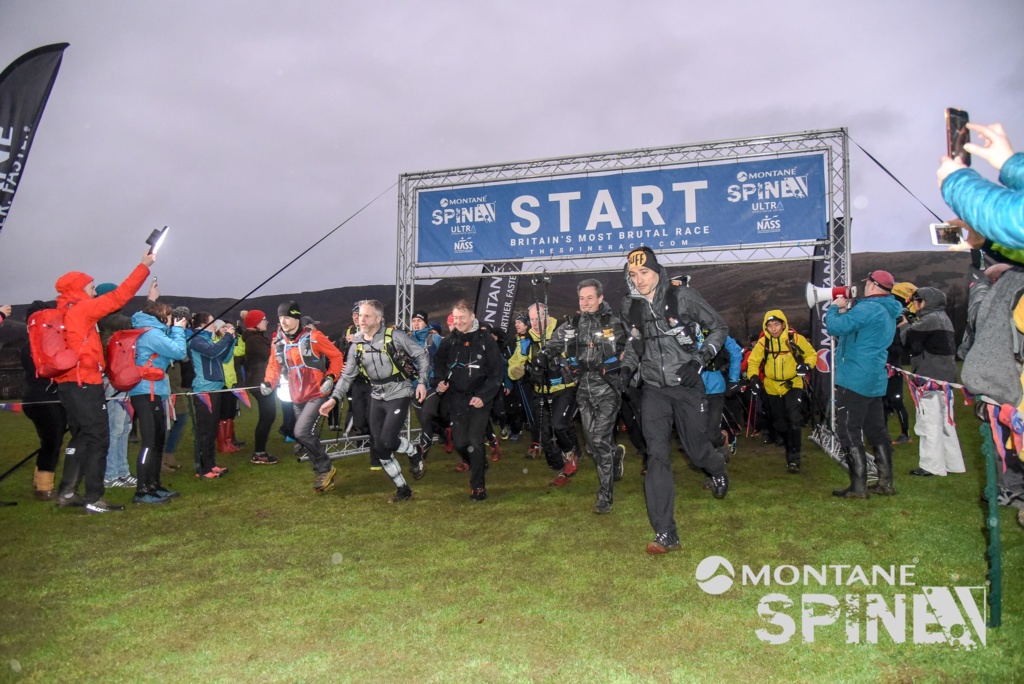 Fast forward to Sunday 12th of January 07.55
So after some startup problems I find myself on the starting line of the big one, The Spine Race 2020. I am thinking "why haven't I just taken on the challenger again, I would almost be at finish". But no, I am looking at more than 4 days of non-stop running. It's a bit overwhelming, but it's exactly what I came here for. The previous 3 years I have raced the Spine Challenger, went home back home and have been glued to the screen to dot watch the rest of the week. This year it would be my dot that would pas Hawes! At 08.00 the race starts and off we go. I am the first runner to leave Edale and turn on to the Pennine Way. However, before I reach the first gate I am passed by John Kelly. Eugeni is behind me, so I find myself in good running company. The first few miles all of us are juggling for positions. As we turn in to Upper Booth a small group of five, including John and Eugeni ,decides to speed up. I find myself with Jayson Cavill in a second group about 150 meters behind the leaders. Jayson and me find some time to discuss the ridiculous high pace John and Eugeni are setting. Not only the pace the leaders is quite fast for a 431km foot-race, but it's also quite a big group who are running off at that pace. This somehow gives me the feeling that I am doing something wrong and that I can't slow down, as I intended to be at the front of the race. My race plan was not to go off as fast as the previous years and to hold back a bit, but others seem different intentions. While getting close to Jacob's Ladder Eion Keith joins our group. As we go up Jacob's Ladder I am glad to see that this year nobody is running up the stairs. Last year, while I was leading the Spine Challenger, I was passed by Jim Mann who decided to hand me out a mental blow by not only passing me but by also running up Jacob's ladder. This year all of us are setting a tough pace and on top off Jacob's Ladder it's both Jayson and me not far behind the race leaders. Together we start to chase them down. The wind is clearly out as Kinder Downfall is flowing up, instead of falling down. At this point Eion and two others catch up with us. We can't see far as it's fog all around. We keep moving nicely as a group and as we turn towards Snake Pass I get a change to make small break away. I speed up and run down the slabs. I have never seen this area so wet. Multiple slabs are submerged and it's impossible to keep dry feet. Before the race I had decided on normal running socks with liners for the first part of the race. I had done so on all mine previous Spine Challengers, so I figured I shouldn't change a winning team. I also expected this would be the leg I would be running the most, so I didn't want to my socks to be too thick. For each other leg of the race I was planning to use liners socks with waterproof outer socks (and so I did in the end). I get to Snake pass and slow down a bit to eat and drink. Eoin, Jason and a third runner catch up, and the four of us move together over Bleaklow. As we are starting the descent I fall a bit behind. While we follow the path down, another fell race is moving up. It's hard to speed up as we are constantly passing people. I am losing some terrain on the others, which annoys me as all the other years I had a strong descent. It's very muddy and slippery this year, a thing I am actually not well prepared for, as where I live it's all flat and packed earth. Just before getting to the paved road, I slip and smack to the ground. I get up and am happy it's nothing serious, still it hurts so I limp into the Torside aid station, get a cup of tea and move on. While crossing the dam I need to reset myself and my race. So I am not leading, I am somewhere at the back of the top 10. It's wet , muddy, slippery and a long, long way to go. My goal is to be top3, but to do that I need to finish first. The same applies to everybody in front of me. I am quite sure that some of them are heading out to fast and will drop out sooner or later. So I decide not to get carried away, and just keep to my own game plan. Heading out to Blackhill I seem to slowly gain on Eoin who is just about a hundred meter in front of me. But every time I seem to close on him, he moves away again. I am really surprised about how wet the ground conditions are this year. Long stretches of the stone slabs are submerged and two of the small rivers are impossible to jump over, so wading through is a must. Eoin manages to stay ahead of me the whole time. As I get to Wesenden Head, I am told it's just a matter of a minute. I can see Eoin running down and I am determined to chase him down. However, I just can't catch him. We had been talking at the YHA the day before and he told me that he expected me to run off fast and he would be slow behind. The more and more I think about his words, I think he was just playing with me, as I have been following him for hours. As I get to the turn-off towards Black Moss I count a total of five people not far in front of me. It's two pairs and a solo runner. So although I can't seem to reach Eoin, at least I am getting closer to the guys who left at a crazy speed. I had run out of water an hour ago, so first I fetch some water from the stream. The next hours are mostly the same. I seem to be chasing people, but I just can't catch them. When I cross the M62, I see two runners at the other side of the bridge. Running down to White House I see people in front of me, but again they stay out of reach. At White House I am greeted by my friend Kevin (who did the Spine a few years ago). He gives me some motivating words and tells me I am just behind some other runners (don't tell me, I know!). I gulp down a cup of tea with milk, and run off. The next part, passing the reservoirs and going up towards Stoodley Pike, has some good runnable terrain. I decide to speed up and halfway the reservoirs I finally manage to pass the runner in front of me. Two more miles and I also manage to pass Huw Davies. Between me and Stoodley Pike I can see another runner. Slowly dusk is setting in. Running down from Stoodley Pike I also catch the runner in front of me who stopped to get his headtorch. Mine is in my side-pocket, so I able to get it on the run. I get to the bottom of the valley and I know it's a step climb up again. I climb up, knowing that I am getting close to CP 1 now. I pass through a field and once more I need to go down. The Challengers have completely trashed this part of the Pennine Way and I slip and slide down. At that point a light shows up behind me and Tim Broadhorst runs past me on the downhill. We exchange a few words and I understand that his shoes have studs so he doesn't slide. At the other side we move up and get to the road. I speed up and catch Tim again. As we move towards CP1 we see a light heading our way, it's Eugeni. I time him, and I guess he is about 30 minutes in front of us as we have at least one more kilometer to the CP. Just before the CP we meet another runner heading our way. We get into the CP and are met by Eoin and Jayson. Eoin quickly heads out again, and Jayson follows in a matter of minutes. Tim and me decided to head into the night together, but I end up messing around. I need to change socks (which I have never done before at the Challenger), so I need to wash my shoes. I need to fill up one food and drinks. Tim is ready in about 18 minutes, so I tell him to go. He doesn't mind waiting, but I get a bit nervous as he is waiting for me. I am happy that nobody else has come in, until the CP staff informs us that Tom Hollins and some other runners are in the building next to us and ready to head out again.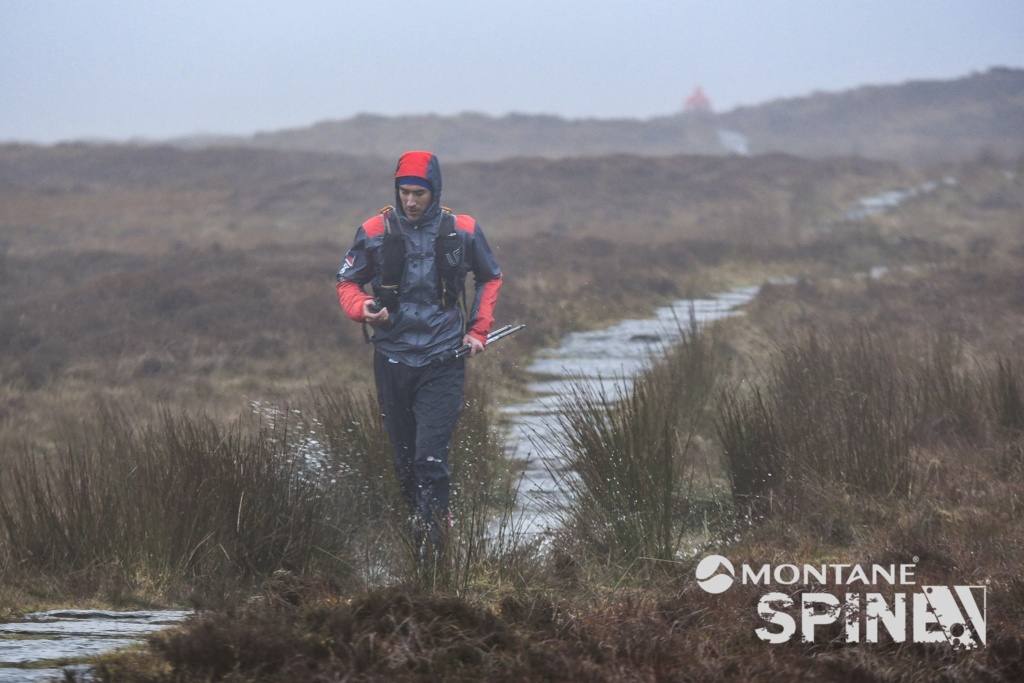 I finish my mess and just after 18.00 Tim and I are heading out into the night. We manage a nice pace. After 3km we need to go down a bit to pass over a small stream. Tim is clearly faster on the downhill and I slip and slide. I am a few meters behind when I stumble and fall down completely. I hit my knee on a rock and my rain pants have a big rip in them. Tim hasn't noticed and runs off. I get up, and walk on with a painful knee. I see Tim's light moving away. I walk off the pain and try to catch up. Just before Walshaw Reservoirs I finally do and I tell him what happened. Together we move on. As we move into the night we have an opportunity to talk. Tim tells me he has never done a race over more than 100km. Knowing this, I complement him on his pace and how he is doing. Together we move through Withins Height, Ponden Reservoir, Ickornshaw Moor and Cowling. Getting into Cowling we see an unexpected Spine signed detour which takes us on a tour around Cowling. As we finish the detour we see Tom Holllins heading towards us from the other side. We speed up a bit, but when we look behind us we don't see him anymore (later he tells me he missed the detour, but when he saw us he figured out there was a detour and he went back). Tim and I move into Lothersdale, I push a bit harder knowing Tom is close. At Lothersdale there is an aid station from the local runner's community. I speed up and lose Tim. I figure that I take a small break to eat and drink at the aid station and wait for him there. Getting into the aid station I am treated as a king and get hot soup, some candy and crisps. Tim moves in and he looks in good shape to me. Just a minute later Tom pops in his head, says he doesn't need anything and moves on. I check with Tim and tell him we should go as well. Tim tells me he wants to rest and eat some more, but presses me to go. I expect him to catch me later (however after the race I found out he dropped out at Lothersdale). Just outside the village I catch Tom and finally we have a chance to talk for real. We have been Facebook friends for some years and we both have run Dragon's Back 2019 (but I was slow that time and I never saw him except as a blur flying past me). For some time we are on the move together, but when I am in need of a toilet break I have to let him go. Between Gargrave and Malham I can often see Tom's light somewhere in front of me, but never do I get any closer. Near Malham I can see lights in front and behind me. I am getting tired and I am slowing down. I get passed by at least two runners. However as I walk into Malham Cove I manage to pass two runners myself. It's the middle of the night, but somehow it's getting crowded again. I notice that one of the runners I pass has a huge backpack, so I take a look at his race number and notice it's a different color. This must be the last of the Spine Challengers. I move up the cove and in the following kilometers I pass two more Challengers. At 04.51 A.M. I walk into CP1.5 and the only thing I can think is; "I am so slow". The last two years I came in around 01.00. I know there is a big difference between the Spine Race and the Spine Challenger, but I can't help feeling slow. Luckily for me Tom is still in the CP, and I also meet up with Gwyn Stokes who tells me just dropped out of the race. I am really sorry to hear this as I know he has been training really hard for this race. Just behind me Sabrina Verjee walks in. Before the race we had talked about racing together, but as the race was about to start we knew we both had a different game plan. Me: go out as fast as I can. Sabrina: easy start, moving up through the ranks. I am kind of happy she managed to catch up as now are able to race together through the last part of the night. Tom leaves the CP and we follow a few minutes later. As we leave the CP I am carrying a hot rehydrated meal and Sabrina has a pot of oaths. The first hundreds of meters we are closely followed by a cameraman while we catch up about our race so far. It's pretty windy when we start the climb up to Fountain's Fell. We pass over Fountain's Fell without any problems. As we get to Pen-Y-Ghant Simon Gfeller and Huw both managed to catch up. It's raining and the wind is blowing hard, but we pass the summit of Pen-Y-Ghant without any problems. As we run down one of the guys of the Japanese film crew meets us to film Sabrina. She seems to get wings and runs of, leaving the three of us behind. We all run down on our own pace. At Horton in Ribblesdale there is an extra stop this year, where we have to show our faces. We get a slice of bread and a mug of soup. Once again we meet up with Tom who is getting a medical check. He tells us he has a problem with his knee. We wish him the best of luck and leave the building. However, not much later he passes me again while running slightly uphill, so I guess he is fine. Once more it's time for a short toilet break and I also get passed by Sabrina, Simon and Huw. Tom is off, but the four of us move slightly apart on the Cam Road. The whole time I am able to see all of them, but I just can't seem to get any closer. We pass a lot of Challenger racers who are almost done. Then finally I catch up with Huw when he is having a small snack break. The wind on the Cam Road is horrendous. It's just like the year before, it's almost impossible to run as the wind keeps blowing me of my feet. Finally I get to the final hill before Hawes. As I descend into Hawes it's starting to rain slightly, but when I spot CP2 the rain turns into a downpour. I am happy to enter CP 2, but I am not in the best of spirits. It's not that I am not enjoying the Spine race, or that the weather is bothering me. It's just that I feel very slow. I have checked in at 14.55, while the last 2 years I was finished at 10 A.M. I shouldn't complain as I am actually more or less on my planned schedule, as I wasn't going to run on my Challenger pace. It's just that there are almost 10 people in front of me, while I planned to be at the front of the race. I am annoyed that the others are so fast. I have no idea if they can sustain this pace, but for now I am falling behind. I hear that Tom dropped out of the race, he had too much problems with his knees. While we are enjoying some hot food I am discussing with Sabrina the pros and cons on taking a rest at CP2 or pressing on to CP3 while we still have some daylight. Sabrina is planning to go out again. I tell her that I am taking a long nice sleep. I figure that if I am not going to win this race, I better enjoy it and relax a bit. The weather forecast isn't great either, the rain is pouring and the wind is turning into a proper storm. The storm is officially called storm Brendan, so you know it's a serious storm. And I, for one, am not looking forward to be out there on the 2nd night, grumpy and sleep deprived. Huw and Simon also are planning to take a nap. I am taking a shower and tell the crew I will be sleeping for 5 hours. After 4,5 hours I wake up feeling guilty that I have taken such a long break on a race I have been looking forward to for years. Storm Brendan had calmed down a bit, and now I feel anxious to get out. I am telling myself I am stupid I slept that long. Although I try to hurry I still need most of an hour to get ready (eating, drinking, taking care of the feet, packing my stuff). The crew tells me that Simon and Huw already left some time ago. In total I have had almost a 7 hour stopover at CP2, which feels embarrassing, but I feel motivated once more.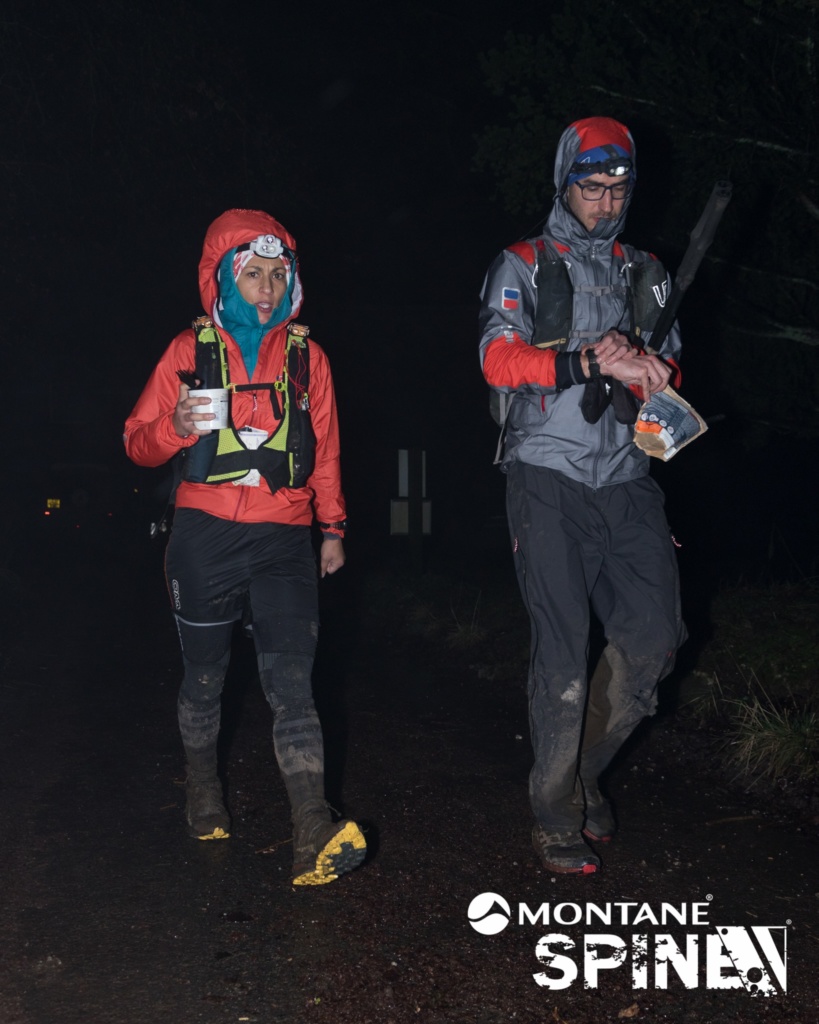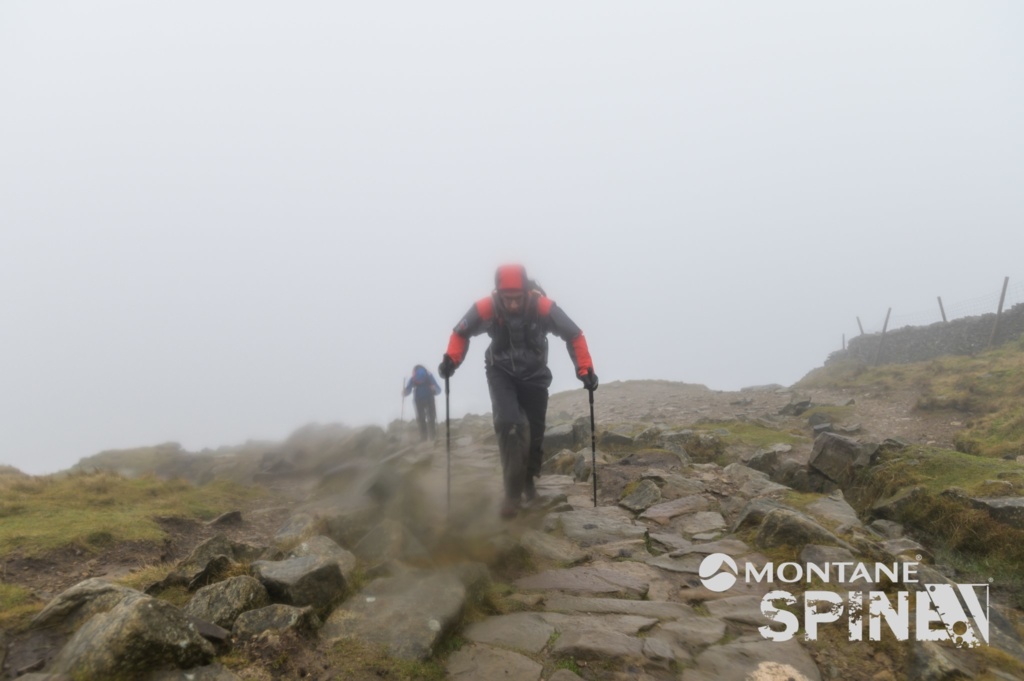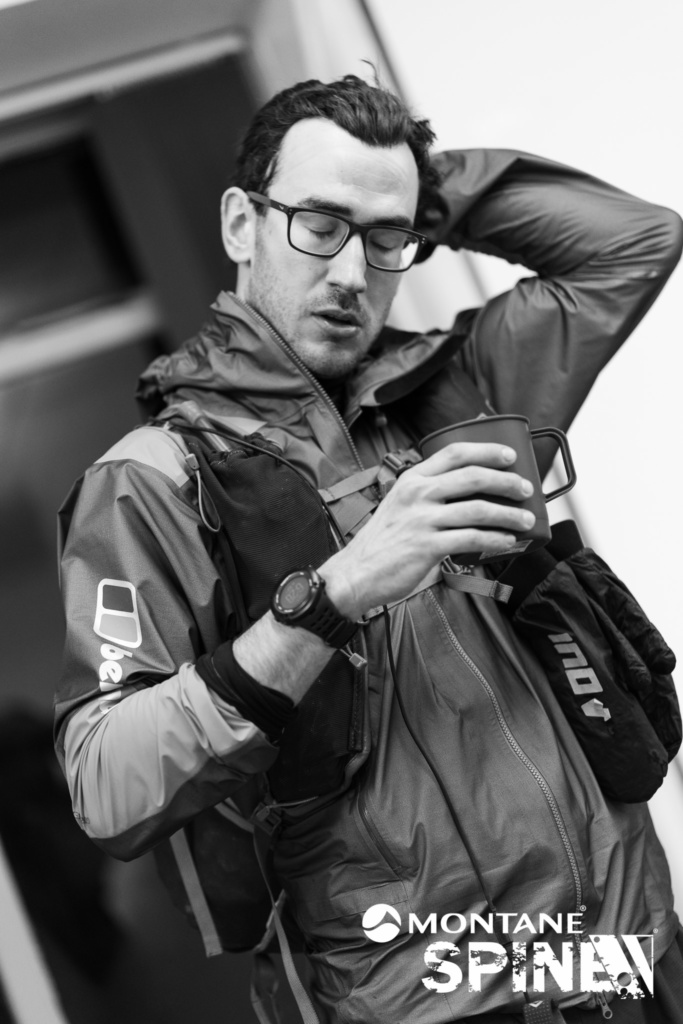 At 22.00 P.M. I leave the CP in good spirits. For the first time in years I have brought a MP3 music player. I put it on and as I move through the night I feel happy and motivated to keep going strong. Up on the hills the wind is back, but it's not as bad as the other day. Finally I find myself on a part of the course that I am not familiar with, it's time to explore again. However, it's completely dark, so I can't see anything beyond my torchlight. I move over Great Shunner Fell and decide to put on an extra layer. I move quickly through the settlements of Thwaite and Keld. I was told there would be a tea house with drinks and snacks at Keld which would be open 24 hours, but I still have enough with me and don't need a detour. So I keep to the Pennine Way and move onto Stonesdale Moor. The wind picks up again, but with all my waterproofs, warm layers and my music I am in my own world and keep moving steadily. Running where possible and power hiking otherwise. Around 3 A.M. I pass Tan Hill, without knowing its Tan Hill and without knowing that there is a optinal CP. I am still comfortable and happy. Then the path seems to disappear completely, according to my GPS I am still on track, but I can only see moor around me. So I follow the arrow on the screen and pass the occasional pole which seems to indicate that I am on the right track. This seems to go on for a while. When I pass a big stream, I stop to take some water to drink. For a short while I am back on a paved road, but just as fast I am back in the moor. I cross the A66 and get to small shelter. I take a quick look, but there is literally nothing inside. I continue over Cotherstone moor following my GPS. As I jump over a small stream I manage to almost land on top of a grouse. Then I see lights ahead of me. When I get closer they appear to be Spine volunteers waiting at a local farm. The farmer put down a sign that Spiners are welcome inside to grab a drink and some chocolate. I take a 5 minute break, refreshing my water supply, getting down some food and taking a cup of hot tea. As I leave the farm behind I notice that slowly is catching up. I can see more and more by the minutes and start to enjoy the view again. I am out of the moor, I pass some farms and reservoirs. I move over several hills and see that my GPS is saying I am almost there. As I move down the hill into Middleton I am met by my countrymen Cees van der Land. Cees had been leading the Spine Fusion Race last summer before he had to drop out, due to an injury. While we run into Middleton together he tells me that the CP is just around the corner. He also tells me I set the fastest time on this stage, which gives me a huge boost, as this means that I haven't lost as much time as I expected due to my big rest. As I get into Middleton it's early morning and I feel really good. I am told that another racer has dropped at CP3 due to a rolled ankle and Huw is sleeping. So I move up on the ranks. I decide not to sleep. I change socks, look after my feet, resupply, take a hot meal and a breakfast and a second breakfast. After 45 minutes I am ready to go, but decided to lay down with my feet up for 15minutes to give them a short rest.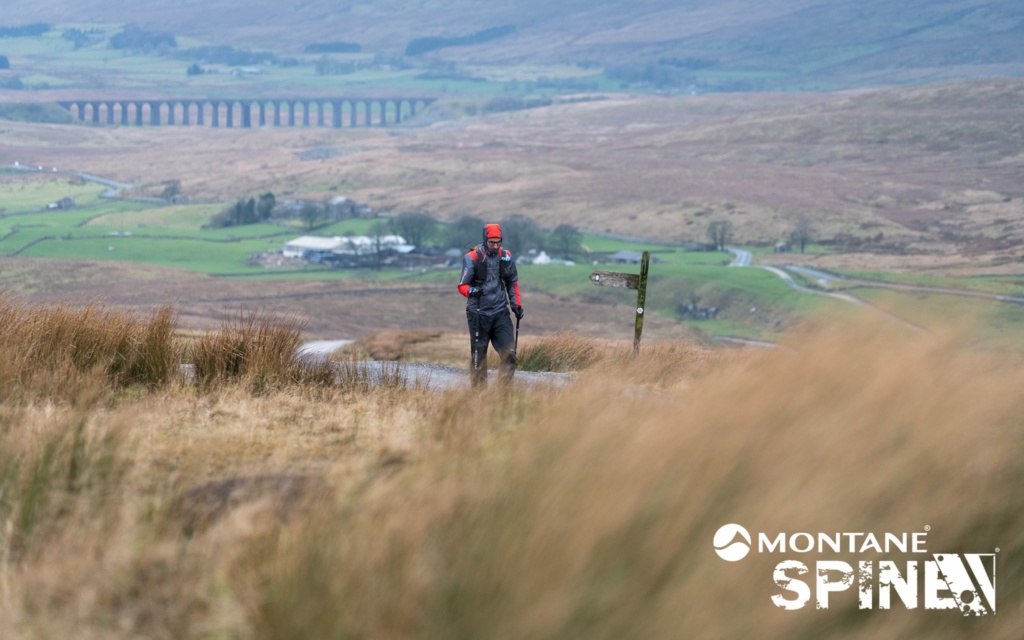 As I step outside of the CP I notice that the early morning good weather has once more turned to drizzle. I charge off, once more highly motivated as I still have most of the day's daylight, so I can enjoy the scenery. At Middleton they told me the weather is going to be worse later on, as storm Brendan is still around. The first miles out of Middleton are mostly flat terrain following the river, a river which is quite wild compared to most Dutch rivers, so I enough to look at. I manage to run most of this flat terrain, covering ground as fast as possible. At the CP I was told that Sabrina and Simon both had a though long night out and they had to take sleep at the CP. So they can't be more than a few hours in front of me. At Holmwath the rain is getting heavier and the path disappears almost completely. It's replaced by a rockfall which runs down into the river. This is no terrain to move fast, I make sure every foot placement is solid as I move through. As I move around the corner I get to Cauldron Snout, a very impressive waterfall. For a moment I see no path up, but once again I just follow the GPS and climb to the top of it. Slowly the rain is turning into wet snow. Once again I am on a paved road so I can do some running again. The wet snow is turning more and more solid, and it's staying on the ground. I asked for a real spine race, and the spine race is delivering. First storm and rain and now also snow! As I move from the paved road back on the trails all is white. There are no tracks in the snow, so I guess that I am still too far behind. The scenery is amazing as I move through a white winterland onto High Nick Cup, a great view! As I get to the edge of High Nick Cup, I can see somebody far away on the path. I have no idea who this is, or if it's even a racer, but I get excited to catch up. As I get closer, tracks are starting to appear on the trail. Still I don't really seem to get closer. Sometimes I can catch a glimpse of somebody, but then I don't see anything for a long time. More tracks appear on the path, and as I move out of the hills into the valley the snow turns into slush. As I run into Dufton I pass a local hiker, I have no idea if this was the person I have been seeing the whole time, as the hiker doesn't seem to move that fast. But there is nobody else around. It's raining again as I turn into Dufton. Due to the storm the 30 minute rule at Dufton is lifted and we can stay as longer as we want to. I am the only racer at Dufton. The rain, snow and sweat left me quite wet. So I decide to dry as much as I can before I take on the night. While drying my gear I take a small rest and eat a dehydrated meal. It was 16.30 P.M. as I got to Dufton, so it was starting to get dark. I don't feel rushed to use the last of the daylight, as I know I will be out most of the night. I better be ready for the next night. So I take my time. I lay down on a few chairs next to a blazing heater to get warm and dry. There is a small kit check, so I need to unpack all my gear (as they always want to see the thing which is at the bottom of your pack).
After an hour I am ready to go again. The storm has been picking up again and it's still raining in the valley. I move through some very muddy and wet terrain, but as I climb out of the valley I get to the snow again. As I move out of the village I call my wife for some kind supportive words. But as I move up into the hills the terrain is getting steeper and we finish the call as I need my breath and focus. I left Dufton only an hour ago when I see footsteps in the snow. I hadn't expected any as I thought I was several hours behind. Meanwhile it's full on dark as I climb up in the direction of Cross's fell. The wind is speeding up and in the next couple of hours I get blasted with horizontal snow, while my view consist of a light beam, my arrow on my GPS, darkness around and snow underfoot. It's a very simple world, the only thing I need to do is follow the GPS and I will get where I want to go. Through the horizontal flying snow I can't see anything. I just need to keep moving forward. I am living in my own bubble. After some time I start to see footprints again. I am surprised about this as with this wind and snowfall these prints can't be that old. Some minutes later I distinguish a second pair of prints. Or there are two people moving together or the two of them are a little apart. I can't imagine anybody else but a Spine racer being up here in these conditions. Several times the footprints and my GPS don't match up, so I follow my GPS. However, every time my GPS leads and the footprints seem to collide again. I get to a summit where I get hit full in the face by the snow and wind. After a small descend the track goes up again, so I guess this wasn't Cross Fell. Finally I get to a big summit Cairn and the path really starts to descend. I try to speed up while going down and soon I see some red and white lights in the darkness. It's Greg's Hut. The lights have been stuck in the snow like on an airfield. I get guided in. I am welcomed by John Bamber and another volunteer who are up here for several days. It's a nice change to be out of the wind and rain for a short while, but I don't want to stay to long, as I planned another sleep at CP4. As I move into Greg's Hut I see two other racers inside. It's Sabrina and Simon, they have been here a while warming up. They are happy to see me and preparing to go out. John is preparing his signature noodles and gets me a hot chocolate. I can't decline, so I tell Sabrina and Simon to go ahead. I tell them I will take an extra 5 minutes and I hope to catch up with them on the downhill. I enjoy the noodles and hot chocolate at the fire. CP4 at Alston is all downhill from here, so I decide to follow after my friends. Revitalized due to the food and motivated that although I had a big break at CP2 I have cached up again with both Simon and Sabrina, I run down and soon spot their lights. As I catch up, Simon speeds up on the downhill. I have a short chat with Sabrina, but decide to follow Simon. Together we run down for a while. Until at Garrigill I slowly move away. At Garrigill there are some local spine supporters handing out cookies and some motivating talks. They tell me that once more a racer at the front has dropped and that Jayson passed into second place as he moved through CP4 without sleeping while Eoin did. So I figure that as I just passed Sabrina and Simon I must be somewhere around 6th place. The last few kilometers are flat and follow the river. I am eager to get to CP4 and sleep a bit while it's dark, so I can use all the daylight for the next leg. I move quickly, but while crossing the last field, just a kilometer before Alston I slip sideward in the mud. I hear a snapping sound in my right foot and feel a shot of pain. I get out of the field and limp the last kilometer. Thoughts are racing through my head, my guess is that I tore something in my foot and that my race will be over. At 00.39 A.M. I get to CP4 and ask for a medic. Thinking my race is over I take my time. After a few minutes Simon enters CP4. While the medic examines my foot, I have a nice hot diner and another one and I enjoy some cups of tea. No cola for me as I want to sleep. Then Eugeni walks in the room and I hear his race is over, his feet are swollen big time and they really hurt him. The medic declares that she can't find any real problems with right foot, I am a bit sceptic as it still hurts. One of the other volunteers turns out to be a physiotherapist and he also takes a look and comes to the same conclusion. I have rolled my foot and there is a bit of a swelling, but I should still be able to continue. I am still bit sceptic, but decide to take a quick shower and sleep for 3 hours after which we will see. Simon plans to take a 2,5 hours sleep. We are in the same room, so when we wakes up after 2,5 hours, I decide to join him.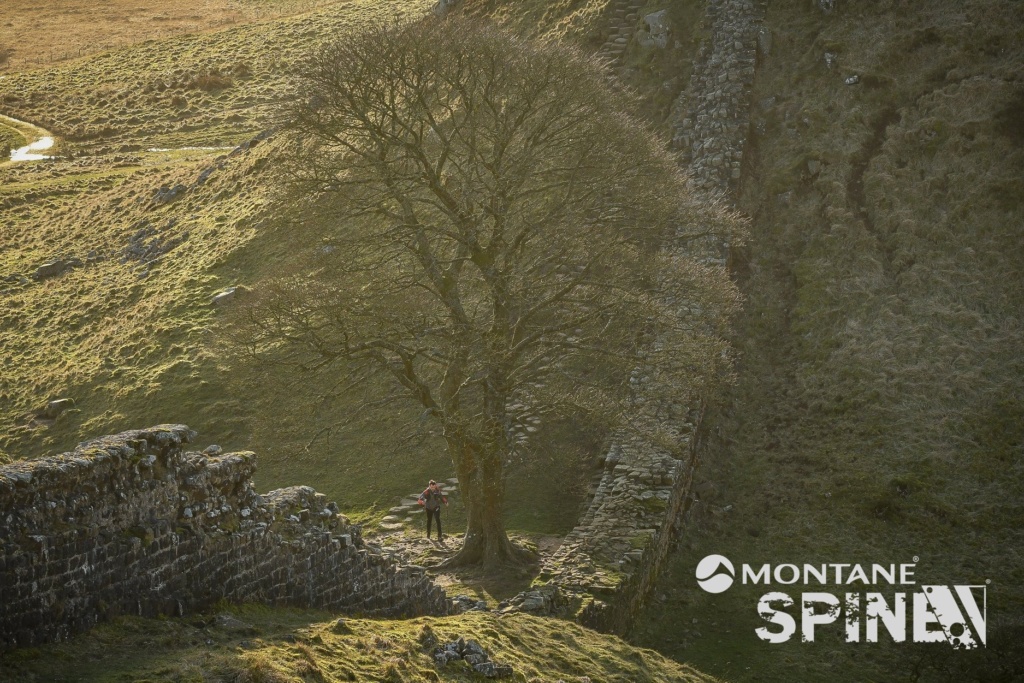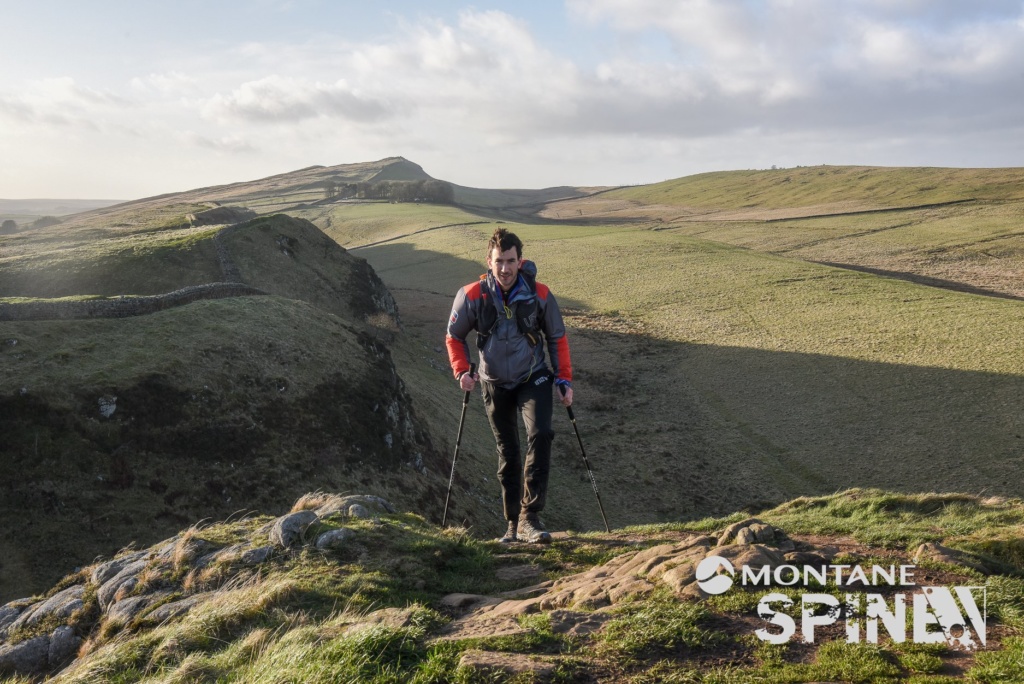 While we have breakfast and I rearrange my gear the medic tapes up my foot. We are told that Sabrina had a short stay and already left. Simon and I decide to go off together and somewhere between 5 and 6 A.M. we walk out in darkness once more. It's dry and not to windy. The first few hours, while in darkness, we walk a nice pace, my foot still hurts, but I am able to walk and keep up with Simon. We have a little chat about our race so far and our positions. We are joking a bit about that it would be nice if we could finish together and if we would be allowed a joint finish. We are somewhere around 6th and 7th position, so we don't see the harm in a joined finish. However as dawn is upon us, it becomes clear that I am holing Simon back. At this point I don't see a good reason to push myself any faster, as I need to be able to finish. So Simon moves away and I try to keep him in view as much as I can. I am enjoying the scenery a lot, and twice I come to a spot where locals have put down some fruits and sweets for the Spine racers. These signs of support are great for getting a mental boost and something new to eat. Up on the hill I meet up with a photographer who tells me that both Sabrina and Simon are not that far ahead of me. This gives me another mental boost, as I thought I was falling behind. Just a few kilometers later I am able to spot two people in front of me. Although I am able to see them, it takes me more than an hour to reach them. I had expected to meet up with Simon and Sabrina, however it turns out that it's Sabrina who is being tailed by a camera. So where is Simon? We stay together a while and chat a bit, but soon it's clear to me that I can move faster. It's 11.49 when we get to Greenhead and I decide to leave her as I want to make most of the daylight and my foot is feeling much better now as I am even able to run again. I get to Hadrian's Wall, an iconic piece of scenery, which I have been looking forward to see. I am really excited that I got here by daylight, so I can take in the whole view. As I can see quite far I hope to get a glimpse of Simon, but unfortunately there is nothing to see. I have a great time, but starting to feel bit tired. I decide to call my brother for a chat and to wake me up. The trail at Hadrian's Wall goes up and down and I meet a lot of people. When once more on a descend I recognize a famous tree, one I have been looking forward to see. I am lucky enough that there is a photographer who takes some awesome shots of me. Then it's just a few more miles, before leaving the wall behind. Once more I have a great view, but I still I am unable to spot Simon. Looking back, Sabrina is nowhere to be seen. The next miles are through field and forests while dusk is slowly setting in. At Horneystead, just before turning onto the roads again, there is farmer who opened up his barn for Spiners. He hasn't only opened up his barn, but he also put down some food. I take a small break hoping to get some water, but I find fresh, hot soup, bread and crisps. What an awesome support. I take 5 minutes to eat a plate of soup with bread and call my wife at the same time. She tells me that I am not that far behind Simon. So refreshed, strong and motivated I am off on the chase. It's proper dark now, so at every turn I hope to finally spot a headtorch. But after every corner, there is nothing to see. Finally at 19.12 I walk into CP5, Belham. And there is Simon enjoying his meal. He is happy to see me, he tells me he got in at 18.30 and that Jayson has dropped at Byrness. Eoin was just leaving as he came in and John is on the last stretch. This means that currently we are joined 3rd place. It will be difficult to catch up with Eoin as he has slept, and Huw is also still behind us going strong. We discuss the matter and I tell Simon I am taking a sleep, Simon agrees he needs to sleep as well. As we already discussed the day before about a joined finish, we naturally get to the subject. I feel strong, and my right foot is feeling fine, although my left hurts a bit, which I guess is normal after such a distance. Simon tells me he was slowing down as his knees hurt him a bit. We ask the organization if we are even allowed to finish together in 3rd place, or if we need to sprint it off. While we wait for the answer I eat and drink a lot and resupply my backpack. They tell us there will be a kitcheck upon leaving the CP, so there is no point in getting everything packed again. We get the answer that we are allowed to finish together, which is great as this means we don't have to be secretive at the CP about our sleep strategy and we don't have to race and push each other. This will gives the both of us the best chance to finish, as it's still a long way to go. Jayson already proved that even at CP5 it's not in the bag yet. We agree on a 2,5 hour sleep. I grab a quick shower and the both of us fall asleep on the only two couches at the CP (there are no beds at this CP). We wake up around 23.00 P.M. and leave just before 00.00. We are told that Eoin is at Byrness by now, so we won't be catching him anymore.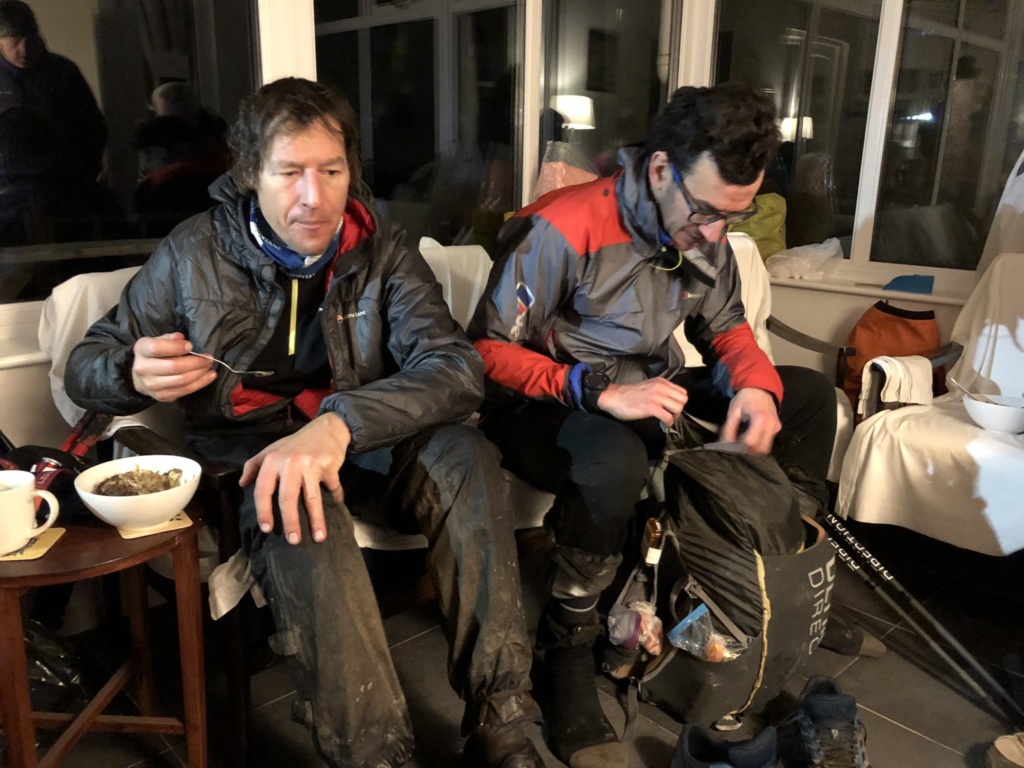 This is it, the final push. Once again we are leaving a CP together, but this time we clearly agreed on staying and finishing together. Just as we leave we meet Huw walking into the CP. He tells us he is very tired and will need to sleep for a few hours at least. Sabrina is also still sleeping at the CP, so we can start beginning to build a lead on our closest competitors. When we leave I feel strong and motivated. It's nice to be together and not racing each other anymore. It's a very relaxing atmosphere, knowing we are planning to be joint 3rd. Taking 4th place would be the worst placement, also knowing that we are together we are able to help and support each other, instead of trying to push the other to the limit. With Simon's knees and my feet we agree that if we would have really raced, there would have been a big chance that one of use would have dropped. So this is really the best choice for both of us. The first hours in the darkness I have the feeling I am stronger than Simon and I might have been able to take him down on this last stage. But mentally it's and reassuring to be together and not worrying about where he is and if I am fast enough. We have a good time and while keeping a nice constant pace, we find enough time to chat. Early morning, while it's still dark we get to Byrness, our final stop on this race. It's 05.14 we are only allowed to stay here for 30 minutes, but we don't really want to stay this long. At Belham we were told that late afternoon the weather would turn for the worst again. At Byrness we are told the forecast didn't improve, they actually expect the winds and rain to pick up earlier. We get some hot food, and another kit check (once again the gear they want to see is down below). We make use of the toilet and refill our bottles and before we know it we are 25 minutes in. They tell us that Eoin is halfway the Cheviots and John has finished 1,5 hours ago. So it's up to us to complete the stage. Still dark outside we leave on the last stretch. I was looking very much forward to see the Cheviots, and once again I am lucky that I will have daylight so I can take it all in. As we leave Byrness, we start with a straight climb uphill. Simon knees still hurt and my left foot hurts a bit, but I don't think much of it. After climbing up, we arrive on top of the Cheviots and I get the feeling we are almost there. However I know it's still at least 42 kilometers. The view of the Cheviots is awesome, but we are severely exposed to the wind. The wind is picking up, and we know it will even be worse later. We pass a shelter, we take a quick peek inside, but there is nothing and nobody inside and we are not in need of any rest. As we move on my left foot starts to hurt more and more. I have no idea what is wrong, but I am trying to ignore it as best as I can. We are on the final stretch and need to get of this mountain range anyway. The whole time the wind is blowing strong and every once in a while we have some rain. Some of the slabs are submerged and I remember stories of people running in the Cheviots who went down to their waists in puddles. I manage to snap one of my poles. As my foot is quickly starting to hurt more and more, Simon offers me one of his poles, which I thankfully take. My pace is slowing down, while I have the feeling that Simon is speeding up. We are getting close to King's Seat, so we know it's under 20 kilometers, but now my foot starts to hurt quite bad. We spot a figure in front of us, but soon notice that the person is running towards us, so it can't be Eoin (who must have been finished by now). Then we also spot a figure behind us on the ridge. Thoughts are running through are heads, is this Sabrina, is this Huw? The figure shouldn't be either, as they were both at least 5 hours behind us at Byrness, but still we don't want to take chances. We start to run on the slabs, but after barely a minute I have to slow down to hiking again. My foot really hurts. Climbing up to Cairns, the last high point of the Pennine Way, still feels quite okay and I manage to keep up with Simon. From the summit we look behind us and the person isn't there anymore, so it can't have been a runner. As we start our descend towards Hut 2 Simon easily leaves me behind. I limp after him, but I am barely able to stand on y foot. I have no idea what is wrong. I toy with the idea of taking my shoe of to inspect my foot and leg, but then again I want to stay as close as possible to Simon and it's both windy and raining. I think, that as it's just 12 kilometers I should suck it up and keep going. At hut 2 I find Simon talking to the volunteers and Pavel (who is on the filmcrew). They invide us inside, but we decline as we just want to get the finish as soon as possible. We continue and I am counting down the kilometers. Pavel is trying to find out if we are going for a joined or a sprint finish. We keep our plan to ourselves and keep mostly together. Even as we are counting down the kilometers, both wind and rain are picking up. Just a small climb up and over The Schil and it's all downhill from there. I am getting the feeling we are almost there, but I have a hard time moving due to the pain. The wind and rain aren't helping. But the idea that I will have a shower, a warm bed and a hot meal soon are keeping me motivated. Simon knows exactly where we are going and how far it is. However, I am expecting Kirk Yetholm around every corner, but the GPS keeps saying we have several kilometers to go. As we descend we try to move as fast as possible, which isn't much in my condition. Pavel takes a few lasts shots and tells us he will go ahead and meets us at the finish. Once more I figure it should be around the corner, but once more I am mistaking. We get out of the hills, first into the fields, than passing some building and finally we get to the road. The pain in my foot is really bad now, and I know that I am holding Simon back, but he is determined to finish together. The wind picks up more and more, and we talk about Sabrina and Huw behind us up there in worsening conditions. We are glad to be down and almost done. The wind is in our back now and pushes me forward faster than I like to go, as every step pains me. Then it's just a small climb on the road and we are in the last kilometer. People are showing up to cheer us on, and we can see the finish line. Once more Simon asks me if we can run down, but I am in so much pain. It feels strange to finish this way. We are joint third and there are so many people far behind us, but I am limping towards the finish line. Simon could easily have taken third place without me, but he is such a great guy and stays with me as we are about to finish together in third place. We cross the field with a lot of cheers, and simultaneously we put our hands symbolical on the border hotel, the end of the Pennine Way and the finish of the Spine Race. It's 15.50 and the sun is already slowly starting to set, the best time to finish. I can't believe I / we came in at third place in this strong field of racers. We have followed our own tactic and kept going, what a great achievement, I am really happy! Simon and I have a finish hug and I thank him for the great company and race. Scott hand us our finishing medals and go inside the border hotel. When I get in, I have this strange feeling that I have been here before, but I haven't. However, over the last years I have seen so many live-stream finishes that all seems familiar. But this time it's me finishing and sitting down.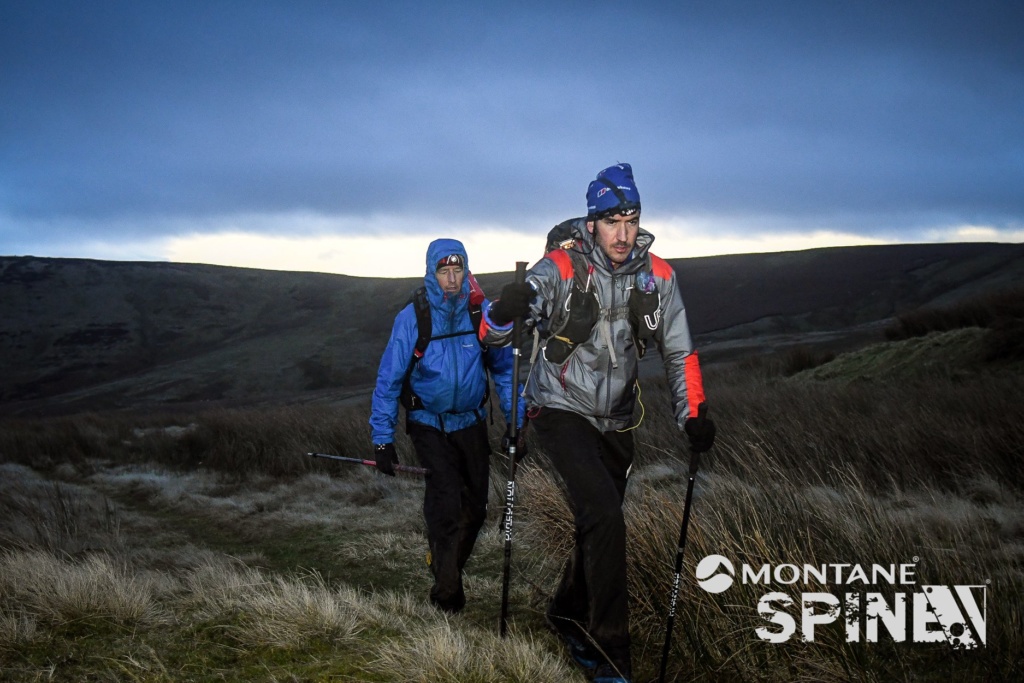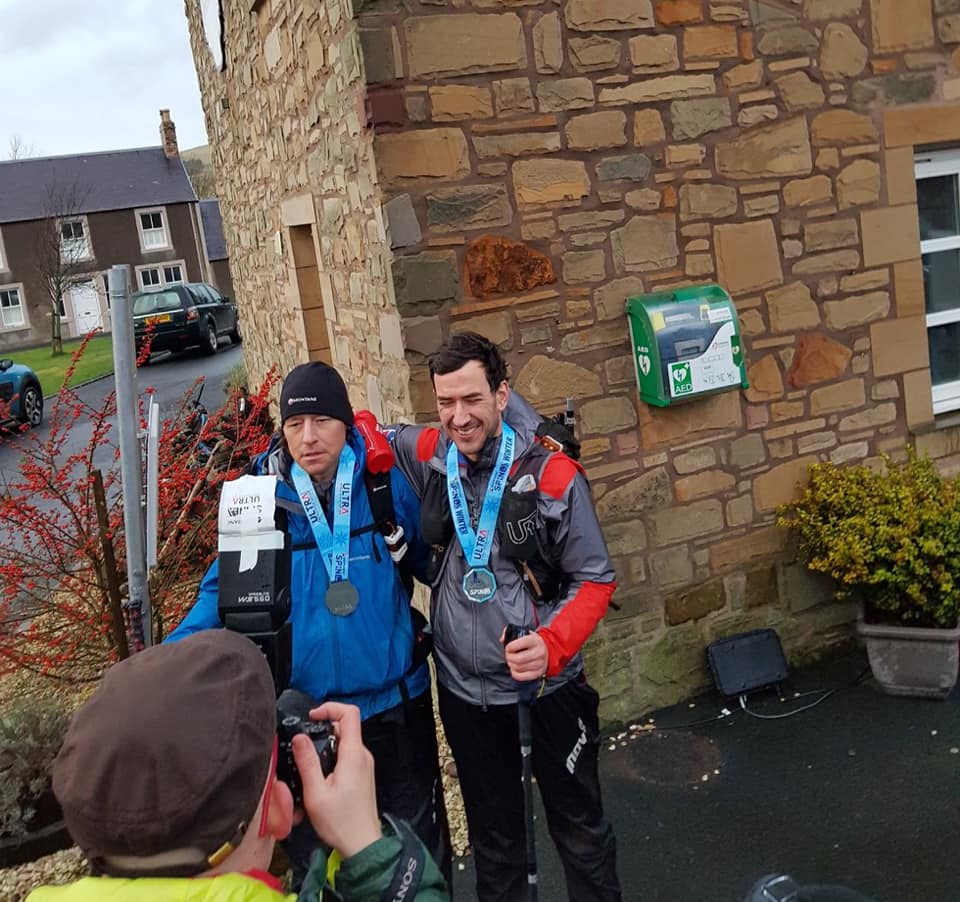 Epilog
After finishing I was finally able to take my shoes and tubes off. My left foot was red, hot and had swollen big time. My left leg had a 1,5 cm difference in diameter thickness between where the tube had been and where it hadn't. A medic took a look at it and told me it had to be tendonitis or severely overtaxed. I would need a lot of rest and icing. The next few weeks I had a tough time walking as the spot between my shin and instep kept hurting me very much. To be sure that I hadn't broken anything I visited the hospital for an X-ray. But the picture showed it all to be well. According to my doctor it had to be severely overtaxed. The following 10 days I used crutches, and it took me almost six weeks before I could run again. Next year I hope to be back, however this time I will start training in august (or maybe earlier!).
A word of gratitude
I would like to thank my sponsors Berghaus, INOV8, Compressport, Ultimate Direction, Therm-a-rest for providing me with the best and extremely lightweight gear for this Spine race.
Thanks to the MudSweatTrailsStore for providing me with Nutritape and extra Suunto 9 watches so I always had a fully charged back-up GPS watch.
A great shout out to the Spine organization and there amazing team of volunteers. Day and night these people were happy to help and provide me with whatever I wanted in whatever quantity I wanted it. You guys are amazing! Thanks you all for always being there, without you all there wouldn't be a Spine Race!
Thanks to all the photographers for all their shots, now I can relive it all through your pictures.
Also big thanks to all the trail angels who left behind sweets, snacks and drinks.
Thanks to the farmers who opened up there barns and left crisps, soup and much more.
And last but not least, thanks to all the Dot watchers who were always there, I never walked alone!
Gear list
Waterproof jacket: Berghaus G20 Storm Jacket 2x
Waterpoof pants: Berghaus Changtse waterproof rainpants & Berghaus Paclite waterproof rainpants
(Jacket) warm layer: Berghaus Reversa jacket
Mid layer: Berghaus Vapourlight Hydroloft Race Smock & Berghaus Hottar Hybrid insulated jacket
Racevest: Ultimate Direction Fastpack 25
Poles: Ultimate Direction FK Ultra Poles
Shoes: INOV-8 Trailtalon 290, 3 Pairs, 2 sizes
Socks: Injinji Liner 6x, Dexshell waterproof running socks 5x, Compressport trail socks 1x
Gloves: INOV-8 All Terrain Pro Mitt 2x & INOV-8 All Terrain Gloves 1x
Sleeping bag: Therm-a-rest, Hyperion 32F/0C Sleeping Bag, 520gram
Matress: Therm-a-rest, Neo-Air Uberlite, Small , 170gram
GPS: Garmin Etrex 2x, Suunto Ambit 3 1x, Suunto 9 2x