by Marek Vis, 09-03-2016
(English version in red)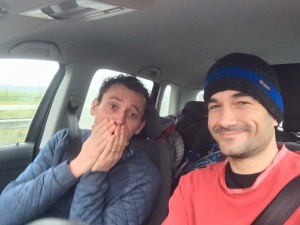 Na maanden trainen en afzien is het eindelijk zo ver en sta ik samen met 46 anderen aan de start van de eerste editie van de Legend Trail 250k non-stop navigeren door de donkere bossen van de Ardennen met een tijdslimiet van 4km/u. Vrijdagavond 4 maart om 18:00 is de start en we moeten maandagochtend 7 maart om 8:30 binnen zijn.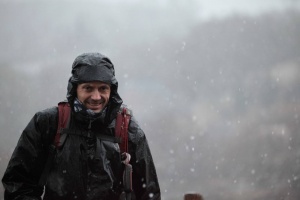 250K non-stop, Legends Trail 2016, Pain is my Partner
After months of dedicated training the moment has finally arrived. Together with 46 others, I find myself at the starting line of the first edition of the Legend Trail 250k non/stop navigation through the dark woods of the Ardennes, with a time limit of 45 km/hr. The start will take place on Friday evening, March 4th, 18:00 and we need to have completed the trail by Monday morning, March 7th, 08:30.
START (0 km) – CP1 (62 km)
We bewegen en ik moet lachen, het is begonnen, waar ben ik aan begonnen? Ik kijk om mij heen en zie vele bekenden met grootste loopprestaties op hun naam en ik voel mij een beginner. Iedereen is opgetogen en praat met elkaar over gelopen avonturen en het avontuur waar we aan begonnen zijn. Al snel worden we hierop afgerekend want we lopen verkeerd, dit kan nog interessant worden, denk ik. De schemering breekt aan en de nacht in de bossen rondom La Roche verwelkomt ons. Groepjes zijn ontstaan en ik loop met Maarten, Michiel en Dennis (die eigenlijk Eddy heet). Het gaat lekker en Michiel blijft maar roepen dat we eigenlijk te snel gaan, hij heeft enorme ervaring en ik weet dat hij gelijk heeft. Ondanks dat we proberen in te houden, lopen we ineens aan kop. De koplopers zijn namelijk al een paar keer verkeerd gelopen. Zodra het groepje ons heeft bijgehaald hebben we neiging mee te lopen, maar met nog 220k te gaan kunnen we ons gelukkig beheersen. Tegen middernacht komen we aan in La Roche en nemen een koffie in een café met carnaval vierders. We krijgen complimenten voor onze outfit…
We're off, and I'm laughing, what have I gotten myself into? I look around and recognize many experienced runners. I feel like a novice. Everyone is excited and is talking about past adventures and the adventure that we have just embarked on. It doesn't take long for us to realize that all this talking has made us take a wrong turn. This could be interesting. Dusk sets in over the wooded lands surrounding La Roche and the night welcomes us. Small groups have formed, and I find myself running with Maarten, Michiel and Dennis (whose name is actually Eddy.) We're feeling good, but Michiel keeps telling us that we're going too fast. He's got a lot of experience, so I know he's right. Despite trying to hold back, we suddenly find ourselves in first place as the other frontrunners have taken a few wrong turns. When they catch up we are tempted to try and keep up with them, but with 220K to go fortunately we're able to restrain ourselves. Around midnight we arrive in La Roche and have a cup of coffee in a local café filled with people celebrating a local carnival. We're complimented on our outfits…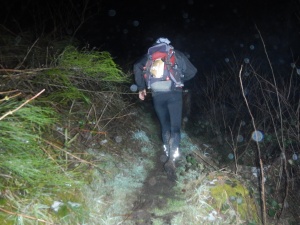 De tocht gaat verder en we verlaten het feestgedruis in La Roche en we laten Dennis, die Eddy heet achter in het café omdat hij een gebroken of gekneusde duim heeft vanwege een val eerder die avond. Al snel zien we een paar andere lopers en dat blijken Chris en Paula te zijn, onze groep bestaat nu uit vijf lopers. Gezamenlijk lopen we kakelend door de bossen over de modderpaadjes en kruipen we over en onder bomen door totdat het eindelijk dag wordt. De sfeer zit er goed in, maar ik heb wel een trekkend gevoel bij mijn bil en vrees voor een oude blessure. Met daglicht arriveren we bij checkpoint 1 (CP1). Eten, bijvullen, jezelf een beetje oplappen en weer verder.
We resume our journey and leave the happy crowd behind in La Roche. We are also forced to leave Dennis (also known as Eddy) behind, as he seems to have broken or sprained his thumb during a fall earlier that night. We soon spot another pair of runners, Chris and Paula. Our group now consists of 5 people. Together we talk while making our way through the muddy woods, climbing over and crawling under trees, until morning arrives. The atmosphere is good, but I'm starting to feel a pinch near my buttock and fear that this may be an old injury rearing its head. Night has turned to day as we arrive at checkpoint 1 (CP1). Eat, refill, pull yourself together, and on we go.
CP1 (62km) – CP2 (106km)
We bedanken de vrijwilligers hartelijk en gaan weer op pad. De sfeer zit er goed in en er wordt veel gepraat. Ik merk dat ik steeds minder ga praten en dat de pijn in mijn bil toeneemt. De twijfel slaat toe en ik klaag over mijn bil. Uiteindelijk kan niemand je helpen en moet je zelf bepalen of de pijn dragelijk is of niet. De pijn is een constante met uitschieters en ik bepaal dat ik die uitschieters maar voor lief moet nemen. Wat ik wel probeer is om mijn loophouding zo normaal mogelijk te houden zodat ik geen andere spieren ga overbelasten. Druk in mijn hoofd met het ongemak, gaan de kilometers langzaam voorbij. Maarten heeft het nog over Leo. Wat betekent, dat als je niet bent aangevallen door een beer, moet je niet zeiken over pijn. (Leonardo di Caprio in de film The Revenant). Rond kilometer 85 duiken we nog een eetgelegenheid in voor koffie en een snack alvorens we ons wagen aan het laatste stuk naar CP2.
We thank the volunteers at CP1 and resume our path. The group is cheerful and there is lots of talking, but I find myself talking less and less as the pain in my buttock increases. I feel unsure and start complaining, but there is nothing anyone can do. It's up to me to decide whether the pain is bearable or not. It's a constant throbbing with shooting pains every now and then. I decide that I'll just have to stick it out for now. I try and make sure that my posture remains as normal as possible, so that I don't strain any other muscles. The kilometers pass slowly as I mull over the pain in my head. Maarten is talking about Leo (Leonardo DiCaprio in The Revenant), and I figure that as long as one hasn't been attacked by a bear, one really shouldn't complain about pain. Around 85 km we make a quick stop at a small diner for a cup of coffee and a snack before starting the remaining path to CP2.
Bij CP2 aangekomen worden er muziekjes afgespeeld die je kon doorgeven, fantastische actie van vrijwilliger Astrid! Ik krijg wederom de mogelijkheid om mezelf op te lappen. Maarten, Michiel, Paula en ik willen slapen. Chris niet en sluit zich aan bij Peter en François. Ik merk meteen dat het een gedoe is op een CP na meer dan 20 uren zwoegen. Je wil relaxten, maar je moet van alles doen en om dat te bemoeilijken hebben we ook nog afgesproken dat we om een bepaalde tijd gereed staan om met zijn vieren verder te gaan. Sokken uit, shirt uit, longsleeve uit, buffs af, voeten droog föhnen, eten, drinken, schone kleding aan, rugzak herpakken, eten aanvullen, drinken aanvullen, weer eten, weer drinken, thuisfront informeren. My god wanneer moet ik slapen! Ik zit te kloten met mijn dropbag en doe alles traag en kan alles moeilijk vinden en weet niet of ik alles gedaan heb. Mijn bil was ook nog zo'n puntje en ik kreeg het aanbod het te laten masseren. Beter ff doen en nog iets minder slapen. Mijn geplande anderhalf uur slaap wordt uiteindelijk 10 schamele minuten.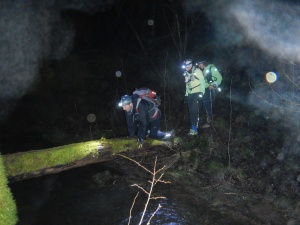 On arrival at CP2 music is playing. We were able to select a personal song in advance, a fantastic initiative by volunteer Astrid! Again I get the opportunity to patch myself up. Maarten, Paula and I want to get some sleep. Chris doesn't, and decides to join Peter and François. I quickly realize that there's a lot of hassle at a CP after more than 20 hours trudging through the woods. You want to relax, but there are also all sorts of things that you need to do, and to complicate matters further we have decided to set a time at which the four of us want to be ready and continue on together. Socks off, shirt off, long sleeve off, buffs off, blow-dry feet, eat, drink, put on clean clothes, re-pack backpack, refill food and supplies, send message to home-front. My god, when can I sleep?! I'm messing around with my drop bag, my movements are slow, I have a hard time finding things and remembering if I've done everything I need to. My buttocks is still sore and I am offered a massage. I decide that's more valuable than sleep, so the 1,5 hour nap I had planned turns out to be no more than a measly 10 minutes.
CP2 (106 km) – CP3 (145 km)
Dit zou een relatief makkelijke etappe moeten worden, enige puntje was de naderende tweede nacht. The game is begonnen en dat beseffen we maar al te goed. Hardlopen wordt powerhiken, een zweefmoment kost simpelweg meer energie, energie die we later nodig hebben om überhaupt nog vooruit te komen. Die kilometers gaan traag voorbij en al snel moet de lamp weer aan. Omhoog, omlaag, modder, nog meer modder en maar weer eens een verkeerde afslag, het hoort er allemaal bij. Gelukkig is het droog. Ergens halverwege ergens in een dorpje duiken we een café in voor een bakje koffie. Ineens staat vrijwilliger Arend voor het raam met twee dozen pizza's! Wat een held, daar knap je wel ff van op! Met gevulde magen lopen we verder. Er wordt minder gepraat, en beduidend minder door mijn praatgrage vriend Maarten. Sterker nog, mijn maatje loopt achteraan in plaats van vooraan. Ik vraag Maarten of hij een dip heeft. Geen idee, doet wel pijn, maar is dat een dip? Ben je gebeten door een beer vraag ik? Nou dan, doorlopen. De laatste uren naar CP3 blijft Maarten achteraan lopen en ik ga er vanuit dat hij een dip heeft, een flinke. Verheugd stap ik CP3 binnen, maar wordt meteen geconfronteerd met het uitstappen van Chris. What happened! Hij zag er zo energiek uit op CP2. Veel aandacht mag je er op zo'n moment niet aan besteden, je moet jezelf immers oplappen en die hele lijst met klote dingen afwerken om weer op pad te kunnen naar het volgende checkpoint.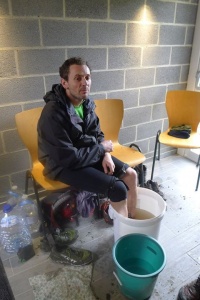 This should be a relatively easy leg of the trail, the only worry is the approaching night. The game is on and we are well aware. Running turns into power hiking, we need to manage our energy, energy we will desperately need later on to keep on moving. Kilometers pass slowly, and it's not long before our lights need to be switched on. Up, down, mud and more mud, another wrong turn, it's all part of the game. Thank god it's dry. Somewhere halfway we enter a small café for a cup of coffee. Suddenly we spot volunteer Arend with two boxes of pizza! Our hero! This makes a man feel better. We continue with full stomachs. There is less talking, especially my talkative friend Maarten seems to be very quiet. He is at the back of the group instead of at the front. I ask him if he's going through a rough patch. He's not sure, he's hurting, but does that qualify as a rough patch? Were you attacked by a bear?, I ask him. No? Ok so then keep moving. The last few hours towards CP3 Maarten stays at the back of the group. He's having a hard time, a really hard time. I'm excited as I enter CP3, but am immediately confronted with the news that Chris has dropped out. What happened? He looked so energetic at CP2. I don't have a lot of time to process the news, as I need to patch myself up and complete a whole damned list of things to do in order to be able to continue to the next checkpoint.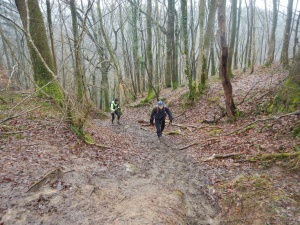 Ik doe weer van alles en het kost wederom te veel tijd voordat ik eindelijk in mijn bivakzak buiten in slaap val. 2:16 uur ik schrik wakker. O nee ik heb mijn wekker niet gehoord en heb nu een kwartier minder om mezelf in orde te brengen voor vertrek. In no time ruim ik slaapzak, matje en bivakzak op en gooi allerlei eten in mijn rugzak. Batterijen van de hoofdlamp vervang ik snel en ik check de wc voor de tweede keer want ik moet zo nodig plassen, nog 5 minuten en Michiel en Paula staan al bijna klaar. Maarten zit klaar op een stoel. Maarten roept mij, maar ik heb haast om naar de wc te gaan en ik roep wat terug. Klaar met plassen kom ik Maarten op de gang tegen. Ik kap ermee zegt hij. Na een onbegrijpelijk blik van mij, vraag ik hem of hij het meent en waarom. Blaren, en hiel naar de klote. Oké zeg ik, zeker weten? Ik heb geen tijd en energie om hem de route weer op te schoppen. Ik zie je op CP4 zegt Maarten en een paar minuten later sta ik buiten met Michiel, Paul en Peter.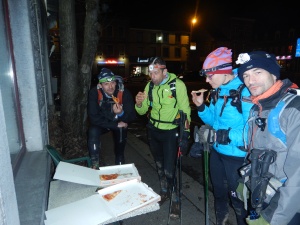 I complete all the necessary tasks, but again it takes too long before I'm able to crawl into my sleeping bag for a short nap. At 2:16 I wake up suddenly. Oh no, I slept through my alarm and I now have 15 minutes less time to get myself ready. In no time, I  pack up my sleeping bag and matrass, and throw all kinds of food in my backpack. I renew the batteries in my headlight, go to the bathroom, 5 minutes to go and Michiel and Paula are almost ready. Maarten is already waiting on a chair. He calls out to me, but I'm in a hurry to go to the bathroom so I yell something back at him. On my way back from the bathroom we run into each other. I'm stopping, he says. I give him a confused look and ask him is he's serious. Blisters, and a messed up heel. Are you sure? I ask him. I don't have the time or the energy to talk him back into it. I'll see you at CP4. A few minutes later I'm outside with Michiel, Paula and Peter.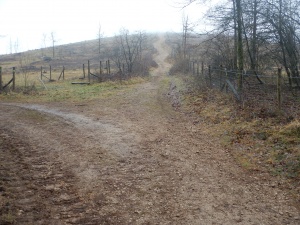 CP3 (145 km) – CP4 (205 km)
Het is 2:30u en het begint zachtjes te regenen terwijl we beginnen aan een traject van 60km met vele lastige beklimmingen. Ik ben vreselijk moe en heb moeite de rest bij te houden. Omhoog lopen gaat moeizaam omdat ik geen energie heb en voortdurend de neiging heb ik slaap te vallen. Omlaag lopen gaat moeizaam omdat ik verrekte pijn aan mijn enkels heb. De pijn aan mijn bil is gek genoeg verdwenen. Zuchtend en steunend volg ik de anderen omhoog, er lijkt geen einde aan te komen. Tijdens de afdaling weet ik het zeker, als ik beneden ben bel ik de organisatie dat ik ermee stop. Het is toch mooi dat ik meer dan 150km gelopen heb. En ik verzin nog wat redenen waarom het prima is om te stoppen. Bijna beneden zegt Michiel dat nu de klim met het grootste hoogteverschil in België eraan komt, maar liefst 450 hoogtemeters. Ik besluit resoluut deze laatste klim er nog bij te pakken zodat ik mijn eerste 100 mile gelopen heb als ik straks stop. Mijn gedachten dwalen af en ik moet continu oppassen niet om te vallen van de slaap. Het lijkt uren te duren en tergend langzaam gaat de weg gestaag omhoog. Ik kijk nog eens op mijn GPS en op mijn horloge, waarna ik weer enigszins opbloei. De dag breekt bijna aan! Niet veel later beginnen de vogeltjes weer te fluiten en weet je dat je de nacht hebt doorstaan. Het wordt licht, heel licht, want het heeft ook nog gesneeuwd. Eenmaal boven denk ik niet meer aan stoppen en weet ik weer aansluiting te vinden met de anderen en even verderop staat een auto met 3 vrijwilligers geparkeerd in de sneeuw. Of we koffie willen? My Lord, wat een actie, fantastisch een bakkie koffie! Verheugd vervolgen we onze weg richting Coo. Mijn opleving was van korte duur want ik krijg het steeds zwaarder en kan de andere niet meer bijhouden. Op een gegeven moment laat ik ze lopen omdat ik een paar minuten aan het kloten ben met batterijen wisselen, jas aan, jas uit, eten pakken. De vermoeidheid is zo extreem dat niets mij meer wakker lijkt te houden en terwijl het regent ga ik onder een boom zitten en leun met mijn hoofd op mijn handen. Heel even mijn ogen dicht. Ergens op de achtergrond hoor ik het rustgevend gekletter van de regen en ineens schrik ik weer wakker. Idioot, niet slapen in de regen, doorlopen, bij CP4 kan je slapen! Een klein stukje verderop zie ik Coo liggen, wist ik veel dat ik daar zo dichtbij was, daar kan je gewoon ff in een restaurant opwarmen en wat eten en drinken. Bij Coo aangekomen zie ik ineens mijn vrouw en kinderen staan en de tranen rollen over mijn wangen. Ik ben er helemaal klaar mee en wil dat eigenlijk zeggen maar mijn vrouw zegt zo trots op mij te zijn en dat ik het zo goed doe. In het restaurant nemen we de tijd om te eten en drinken en schiet ik om de haverklap vol. Ik ben zo blij dat zij er zijn en ik wil zo graag bij ze blijven. Ik zeg tegen Wendy dat ik niet weet of ik het red en zij zegt dat ik eerst maar eens naar CP4 moet gaan. Niet veel later stap ik naar buiten, waar het sneeuwt. Vanaf de brug zwaai ik nog naar hen alvorens ik begin aan een enorme klim. De eerste meters van de klim rollen de tranen nog over mijn wangen en geef ik mezelf op mijn flikker om mijn emoties te bedwingen. Bovenaan de klim is het gestopt met sneeuwen en krijg ik de enige minuut zon van het hele weekend, ik ben op 186km. Eindelijk kan ik genieten van de mooie omgeving gehuld in wit en ik voel me gesterkt door de lunch met mijn gezin.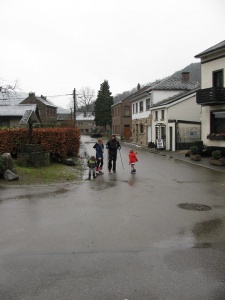 It's 2:30 and softly starting to rain as we embark on the next leg: 60 km with many challenging climbs. I'm dreadfully tired and am having a hard time keeping up with the rest. Going uphill is difficult because I don't have any energy and keep closing my eyes and drifting off.  Going downhill is difficult because my ankles hurt. Surprisingly, the pain in my buttocks has disappeared. I'm struggling to keep up with the rest. The road seems endless. During the next descent I decide that as soon as I get to the bottom of this hill I'm calling the organization to tell them I'm quitting. Making it through over 150 km is good enough, right? I think of more reasons why it's perfectly ok to drop out. As we near the bottom, Michiel informs us that our next climb will be the biggest altitude difference in all of Belgium, 450 m/1476 ft. I decide that I'll include that climb before stopping, so that I can say that I've completed my first 100 miles. My thoughts are drifting and I have to continually prevent myself from falling asleep. It's taking what feel like hours to get to the top of this hill, but a quick glance at my GPS and watch momentarily lift my spirits. It will be morning soon! Not much later I hear birds starting to chirp and I know I that have made it through another night. Darkness turns into light, bright light, there's snow. Once we reach the top of the hill I'm no longer thinking about quitting and manage to catch up with the others. A little further down we come across 3 volunteers in a parked car. They ask us if we want a cup of coffee. My lord, do we ever! Another fantastic volunteer initiative. Excited we continue our route towards Coo, but my bright mood quickly darkens as I again start to struggle and am not able to keep up with the others in our group. I let them move further and further away, as I spend a few minutes messing about changing my batteries, coat off, coat back on, get some food. I'm so tired, nothing seems to be able to keep me awake. With rain pouring down, I take a seat under a tree and rest my head in my hands. I close my eyes for just a second. In the background I hear the calming sound of raindrops, before suddenly realizing what I'm doing. Idiot! Don't sleep in the rain, keep going, you can sleep at CP4! I look ahead and to my surprise I see the town of Coo. I had no idea I was this close. In town I'll be able to go to a restaurant to warm myself and have a drink. As I enter Coo I suddenly see my wife and kids and tears roll down my face. I want to quit, but my wife tells me how proud she is of me and how well I'm doing. I tell her that I'm not sure if I can finish, but she says to make it to CP4 first. A little later I step out of the restaurant into the snow. As I cross the bridge I wave goodbye to my family and start a massive climb. Tears roll down my cheeks as I make it through the first few meters, and I reprimand myself for letting my emotions get the better of me. When I reach the top of the hill, it stops snowing and I get the only minute of sunshine I will get this whole weekend. I'm at 186km. Finally I can enjoy the beautiful white landscape, feeling strengthened by the lunch with my family.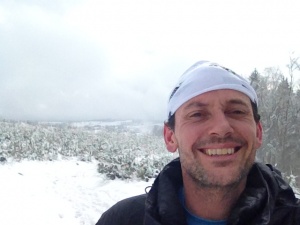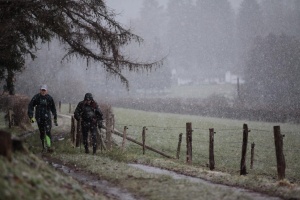 Ondanks mijn opleving gaan de kilometers tergend langzaam en het begint weer te sneeuwen en in de lager delen van het parcours is dat natte sneeuw. Ik krijg het koud, erg koud en vergeet mijn lijf te verzorgen met eten en drinken. Na uren zwoegen zie ik mijn auto omkeren en wegrijden. Nee, nee, nee, ik ben hier denk ik en zie gelukkig dat mijn vrouw verderop de auto stilzet. Deze keer geen tranen meer, maar gewoon heel erg koud en ik ga even een paar minuten in de warme auto zitten om mij op te laden voor de laatste 5km naar CP4. Verder door de regen en ineens komt iemand mij tegemoet gelopen. Ik herken hem, het is een vrijwilliger. Joost was foto's van lopers aan het maken verderop en zag op de livetracking dat ik een paar km verderop liep. Hij vraagt of hij een stukje mee mag lopen en ik ben dolblij met de aanspraak. Meerdere malen vraag ik hem of hij niet koud heeft, aangezien ik denk dat hij een korte broek aan heeft. Hij zegt van niet en een paar km verder zie ik dat het helemaal geen korte broek is… Ik bedank hem voor zijn aanwezigheid en loop de laatste km naar CP4. Mensen klappen en zijn blij voor mij, ik zie Maarten, zijn vrouw en schoonmoeder en ik zie andere bekenden. Blijkbaar zie ik er verrot uit en men begint doelbewust met oplappen. Schoenen worden uitgedaan, jas uit, tas en stokken weggezet en naar de medische staf. Voeten worden verzorgt, eten en drinken wordt geregeld, temperatuur wordt gemeten, te laag. Shit, moet ik nu stoppen? Nee ligt eraan hoe snel je weer opwarmt en ik krijg van Maarten een muts met een handwarmer op mijn kop en verder wordt ik in dekens gewikkeld en krijg ik warme flessen water tegen mijn lichaam. Marek, wat doe je, ga je verder? Vraagt iemand van de organisatie. Uhh, weet ik niet zeg ik. Ik ga in ieder geval niet alleen de derde nacht in. Gaat hij verder, en ik wijs naar iemand onder een deken. Nee hij is te onderkoeld en stopt. En jij, vraag ik aan Luc die net is binnengekomen. Ik moet eerst veel slapen zegt Luc. Ondertussen verspringt alle aandacht van de medische staf naar het laatste groepje dat binnenkomt. Robin, Hans, Geert en Tom. Zij krijgen dezelfde vraag en Robin zegt resoluut dat hij verder gaat. Ik ga met jullie mee zeg ik. Nu naar boven en tukken zegt Maarten en niet veel later lig ik om te genieten van 20 minuten slaap. Voordat Wendy van CP4 vertrok had ze mij op het hart gedrukt een verstandige keuze te maken en toen Maarten mij wakker maakte zag ik het eigenlijk nog steeds niet zo zitten om weer die klote nacht in te gaan. Ik strompelde de trap af en deed mijn schoenen aan en leek uit het niets energie te krijgen. Maarten had alles voor me geregeld. Droge schoenen, droge jas, droge opnieuw ingepakte tas, handschoenen, extra koffie mee, extra eiwitrepen mee. Ik bloeide op, ik had het warm, ik moest naar buiten.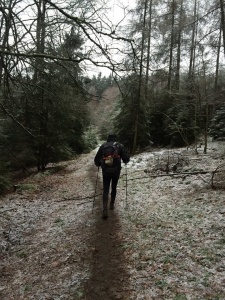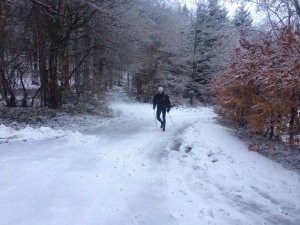 Despite my temporary boost, kilometers pass slowly. It has started snowing again and in the lower parts of the trail I'm met by sleet. I'm cold, really cold, and I forget to nourish my body with food and water. After hours of toiling I see my car turn around a drive away. No, no, no, I'm here. Fortunately I see my wife park the car a little further down. No tears this time. I'm so very cold, and decide to sit in the warm car for a few minutes to recharge and get ready for the last 5 km to CP4. I continue through the rain and suddenly see someone coming towards me. I recognize him as one of the volunteers. Joost was taking pictures of some of the runners and saw on the live tracking tool that I was just a few km away. He asks if it's ok to join me for a bit, and I am very happy with the company. I ask him repeatedly whether he's cold, considering that he is wearing shorts. He tells me no. After another few km I realize he's not wearing shorts at all…I thank him for his company and make it through the last km to CP4. People are clapping, I see Maarten, his wife and mother-in -law, and recognize many others. Apparently I look like hell, and people immediately start patching me up. Shoes off, coat off, backpack put aside, and off to the medical staff. My feet are taken care of, I get some food and something to drink, they take my temperature, too low. Shit, does this mean I have to stop now? No, that depends on how quickly I warm up. Maarten gives me a hat with a handwarmer, I'm wrapped in blankets and bottles of warm water are placed against my body. Someone with the organization asks me whether I want to continue. Uhh, I don't know. I'm definitely not spending the night alone. Is he going? I point towards a man under a blanket. No he's hypothermic and can't continue. What about you? I ask Luc, who just walked in. I need to sleep first, he answers. In the meantime the medical staff shifts their attention to the last group that enters CP4. Robin, Hans, Geert and Tom. They are all asked the same question, and Robin determinedly states that he will continue. I'm coming with you, I tell them. First we need to sleep, so we head on upstairs and not much later I'm enjoying 20 minutes of glorious sleep. Before Wendy left CP4 she asked me to please make a smart decision about whether or not to continue, and as Maarten wakes me I'm still unsure about entering another damned night outside. I walk down the stairs, put on my shoes, and out of nowhere I seem to get a burst of energy. Marten has everything set up for me. Dry shoes, dry coat, dry and packed bag, gloves, extra coffee, extra protein bars. I'm starting to feel a glow inside, I feel warm, I need to go outside.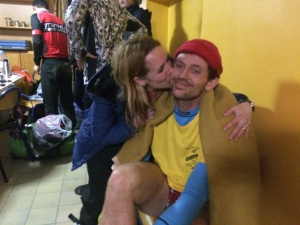 CP4 (205 km) – FINISH (250 km)
10 minuten voor de deadline verlaten we CP4 en we weten dat we vaart moeten maken om op tijd bij de extra CP4.1 op 225km te komen. Hans zet er meteen flink de pas in en zonder morren volgen we hem. We stampen de kilometers lekker snel weg de eerste twee uren. Maar dan wordt het ineens gemeen, want we zijn aan het stijgen naar het hoogste punt van de hele trail en op het hoogste punt ligt ook de meeste sneeuw. Een deel van het parcours dat bestempeld was als makkelijkst is nu vreselijk zwaar door de verse sneeuw. Na 2,5 uur lopen stop ik en zeg dat het tijd is voor koffie. Ik heb de thermosfles koffie van Maarten meegekregen en iedereen is Maarten dankbaar. Een beetje opgewarmd vervolgen we onze weg. Ik loop vooraan te navigeren en kijk continu naar mijn GPS en vervolgens naar mijn horloge waarna ik uitreken hoeveel minuten we voor op schema lopen. De sneeuw belemmerd ons, maar vertraagd ons niet te veel en we zijn een uur voor sluiting op het extra checkpoint 4.1. Het is 1:00u maandagmorgen. Ik gooi er soep, cola, chips en een pijnstiller in en ik stuur een appje dat ik het ga halen. Na 10 minuten staan we weer buiten en bedanken ook deze top vrijwilligers voor de hulp. We zijn aangekomen op het hoogste punt van de trail en hier zullen we een paar kilometer op ongeveer dezelfde hoogte blijven. Makkelijk zonder sneeuw, gruwelijk met 40cm verse sneeuw. Het enige voordeel van de verse sneeuw, is het spoor van onze voorgangers. Maar toch moeten ook wij onze voeten telkens 40cm optillen voor de volgende stap. Ik loop vooraan door de sneeuw en mijn enkels schreeuwen van de pijn. Elke stap is zoeken naar balans waarbij ik mijn stokken gebruik. Op het moment dat ik op mijn GPS kijk val ik bijna om en als ik achterom kijk hoe het Robin, Hans en Geert vergaat, val ik ook bijna om. Op een gegeven moment zitten we allemaal in een soort zombi-staat. Ik stop om op adem te komen, leun op mijn stokken en buig naar voren. Ik open mijn ogen en kijk onder mijn benen door en zie een veelvraat op mij af rennen. Ik schrik, spring half op en besef dat het Robin was. De capuchon op mijn hoofd zorgt ervoor dat ik sneller in slaap van en ik doe hem af. Dan herinner ik mij de woorden over onderkoeling van de medische staf en zet hem weer op. Iemand roept er stop, en we stoppen. Batterijen vervangen van de hoofdlamp. Ik leun met mijn hoofd op mijn stokken en val in slaap. Heel even maar, maar wel lekker. Sjok sjok, verder door de sneeuw er komt werkelijk geen einde aan. Uren ploeteren we door de nacht door de diepe sneeuw. Eindelijk komen we bij een asfalt weg aan en opgelucht loop ik over de weg. Ho stop, ander kant hoor ik Hans of Geert roepen. Shit, het was slechts een oversteek en we duiken de diepe sneeuw weer in. Het maakt ook allemaal niet meer uit, want we zijn een niet te stoppen groepje lopers geworden. In dit stadium van de race kan je alleen nog uitvallen als je om medische redenen niet meer verder kan.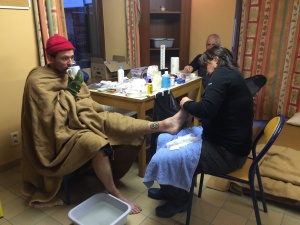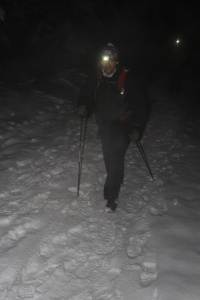 10 minutes before the deadline we leave CP4 and know that we need to hurry to arrive at the Extra CP4.1 at 225 km in time. Hans sets a steady pace and we all follow. We quickly advance the first two hours, but after that it gets tougher. We're ascending to the highest point of the trail, which holds a lot of snow. This part of the trail, which we all assumed would be 'easy', is now extremely challenging due to the fresh snow. After 2,5 hours I stop and tell the group it's time for coffee. I open the thermos that Maarten prepared for me, and everyone is grateful. Slightly warmer we continue our route. I'm at the front, navigating, and continually check my GPS and my watch to calculate how many minutes we are ahead of our schedule. The snow is slowing us down, but not much, and we arrive at the extra CP 4.1 an hour ahead of the deadline. It's Monday morning 1:00. I have some soup, soda, potato chips, and a painkiller and send a message on my phone that I expect to make it to the finish. After 10 minutes we thank the volunteers and head back out. We've arrived at the highest point in the trail and will stay at this altitude for the next couple of kilometers. Easy without snow, but grueling with 40 cm of fresh snow. The only advantage of the snow is being able to follow the footsteps of the previous group. But we have to pick up our feet 40 cm with each step we take. I'm at the front and my ankles are screamingly painful. I use my sticks to find my balance with every step. I look at my GPS and nearly fall down, and again when I try to turn around to see how Robin, Hans and Geert are doing. We all seem to enter a zombie-like state. I stop to catch my breath, and lean forward on my sticks. I open my eyes and suddenly see a rodent running at me, I jump up and realize it must have just been Robin. Having the hood of my coat over my head makes me drowsy, so I decide to take it off. Then I remember what the medical staff told me about hypothermia and put the hood back on. Someone yells stop, and we stop. Change head light batteries.  I rest my head on my sticks and drift off to sleep. Just a second, but it feels really good. Step, step, we make our way through the snow and the road seems endless. For hours we trudge onwards through the night. Finally we arrive at a tarmac road and I'm happy to walk on something solid. Whoa, wait, I hear Hans and Geert calling from the other side of the road. It was just a crossing and we dive back into the deep snow. It doesn't matter, nothing matters, because at this point our group has turned into an unstoppable force. At this stage of the race the only way you are going to quit is because you physically cannot continue.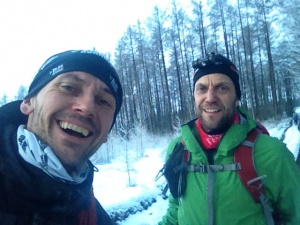 Langzaam maar zeker dalen we af richting Chouffe waar de start was en de pijn wordt verbeten. De adrenaline begint op te komen door het besef dat we over een paar uur echt gaan finishen. Chouffe voorbij en er resten ons nog twee behoorlijke beklimmingen en een allerlaatste steile afdaling. Mijn GPS maakt overuren omdat ik de meters er bijna afkijk. Een kilometer of 4 voor het end weet ik nog verkeerd te lopen, maar gelukkig snel te corrigeren. Iets verderop beginnen we aan de laatste serieuze klim. Ik denk dat Tim en Stef serieus gelachen hebben toen ze deze op het einde erin deden. Het is een vreselijk steil stuk waarbij 100 hoogtemeters moeten worden bedwongen. Happend naar adem kom ik boven en de tranen springen weer in mijn ogen, maar ik heb ook een vreselijk grote grijns op mijn gezicht. Ik win, ik ga winnen, ik heb gewonnen! Robin komt ook boven en we maken een foto en wachten op Geert en Hans. Nog 3 kilometer te gaan en ik bel Wendy dat ik er over een uur ofzo ben. Vrouw en kinderen staan al bij de finish, want zij heeft de halve nacht naar een schermpje met mijn nummertje gekeken op de livetracking. Mijn zijn vieren wandelen we de laatste kilometers en halen alvast wat momenten terug. Een klein klimmetje krijgen we nog en dan een afdaling. We zijn gespot en ik hoor mijn vrouw roepen, daar zijn ze!! Gillen en roepen hoor ik mensen. De afdaling is steil en doet rete veel pijn, maar pijn was mijn partner en mag er zijn. Ik zie ze nog niet door het hoge struikgewas en dan eindelijk na een stuk of 6 zigzag bochtjes zie ik iedereen staan. Beneden aangekomen wachten tot we met zijn vieren zijn en gezamenlijk over de finish. Ik krijg de medaille van Tim en val huilend in zijn armen. Knuffels en felicitaties komen van alle kanten en de emoties zijn overweldigend. Mijn vrouw en ik huilen allebei, mijn kids snappen er natuurlijk geen bal van. Ik knuffel en bedank Maarten voor zijn ongelooflijke support. Van Stef krijg ik nog een mooi pak La Chouffe bier en ik bedank ook hem hartelijk voor dit onvergetelijke avontuur.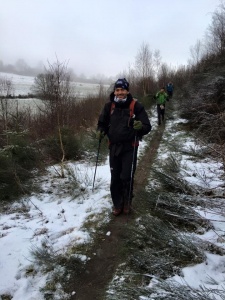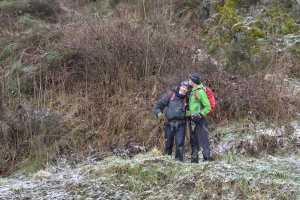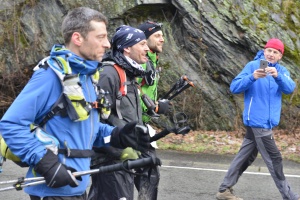 Slowly but surely we descend towards Chouffe, where we started. Adrenaline starts to rush in as we realize that in a few hours we should be reaching the finish line. We pass Chouffe and only have two more climbs and a steep descent ahead of us. My GPS is running over-time as I try to look away the meters. About 4 km before the finish I manage to take a last wrong turn, but am quickly able to correct this. We start our last real climb, and think about how Tim and Stef must have laughed as they decided to add this to the last part of the trail. It's a terribly steep hill. Gasping for air, I reach the top. I can feel tears, but also a massive grin. I win, I'm winning, I've won! Robin also reaches the top of the hill, and we take a picture as we wait for Geert and Hans. Only 3 km to go. I call Wendy to let her know I should be finishing in a hour or so. She tells me she is already at the finish line with the kids. She has spent the night staring at my tracking number on the live-tracking tool. The four of us start sharing stories as we complete the last few km. A small climb and descent, and we're spotted by the crowd. I can hear my wife yell: there they are! There is yelling and screaming. The descent is steep and painful, but pain is ok, it has been my partner in this journey. I still can't see the crowd through the high bushes, but then after 6 zig-zag bends, I can finally see them. As we reach the foot of the hill we wait for each other and together, all four of us, cross the finish line. Tim hand me the medal, and I fall into his arms crying. I receive hugs and congratulations from all sides and I am overwhelmed by emotion. My wife and I are crying, my kids have no idea what's going on. I hug and thank Maarten for his incredible support. Stef hands me a nice pack of La Chouffe beer, and I thank him for this unforgettable adventure.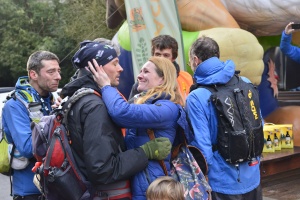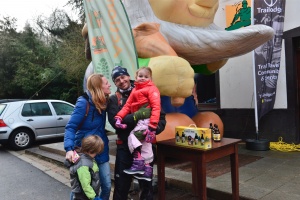 Wat een evenement, ongekend! De toewijding van de organisatie en de vrijwilligers was werkelijk waar fantastisch. Ik ben dieper gegaan dan ooit tevoren en voel me bevoorrecht dat ik dit heb kunnen volbrengen.
Mijn lieve vrouw en kinderen, Maarten, familie en vrienden thuis, collega's, medelopers, onbekenden, vrijwilligers, organisatie, Stef en Tim, nogmaals iedereen hartelijk bedankt!
What an unbelievable event! The dedication of the organization and volunteers was truly amazing. I have had to dig deeper than ever before, and I feel privileged to have been able to complete this.
My dear wife and kids, Maarten, family and friends at home, colleagues, fellow runners, volunteers, staff, organization, Stef and Tim, many thanks to all of you!
Marek