The Legends Trail (250 km) is not your average trailrun in the Ardennes. The race is longer, colder, wetter, tougher and more gruelling than you can imagine if not having done anything like this before or have been a volunteer during this race.
Marek and I planned to run this race last year but didn't know what to expect as well. Even though we thought we had some idea of what to expect because we have been running 100 km+ races before and also used to shitty terrain. Marek finished in 60+ hours and I gave up at CP3 (150 km) because of trench feet.
When you've signed up already you probably have many years of running experience and have your own idea of how to deal with situations and what materials to carry. But the below things will give you an idea of our experience of the first edition of our Legends Trail adventure in march 2016 and the things to think of.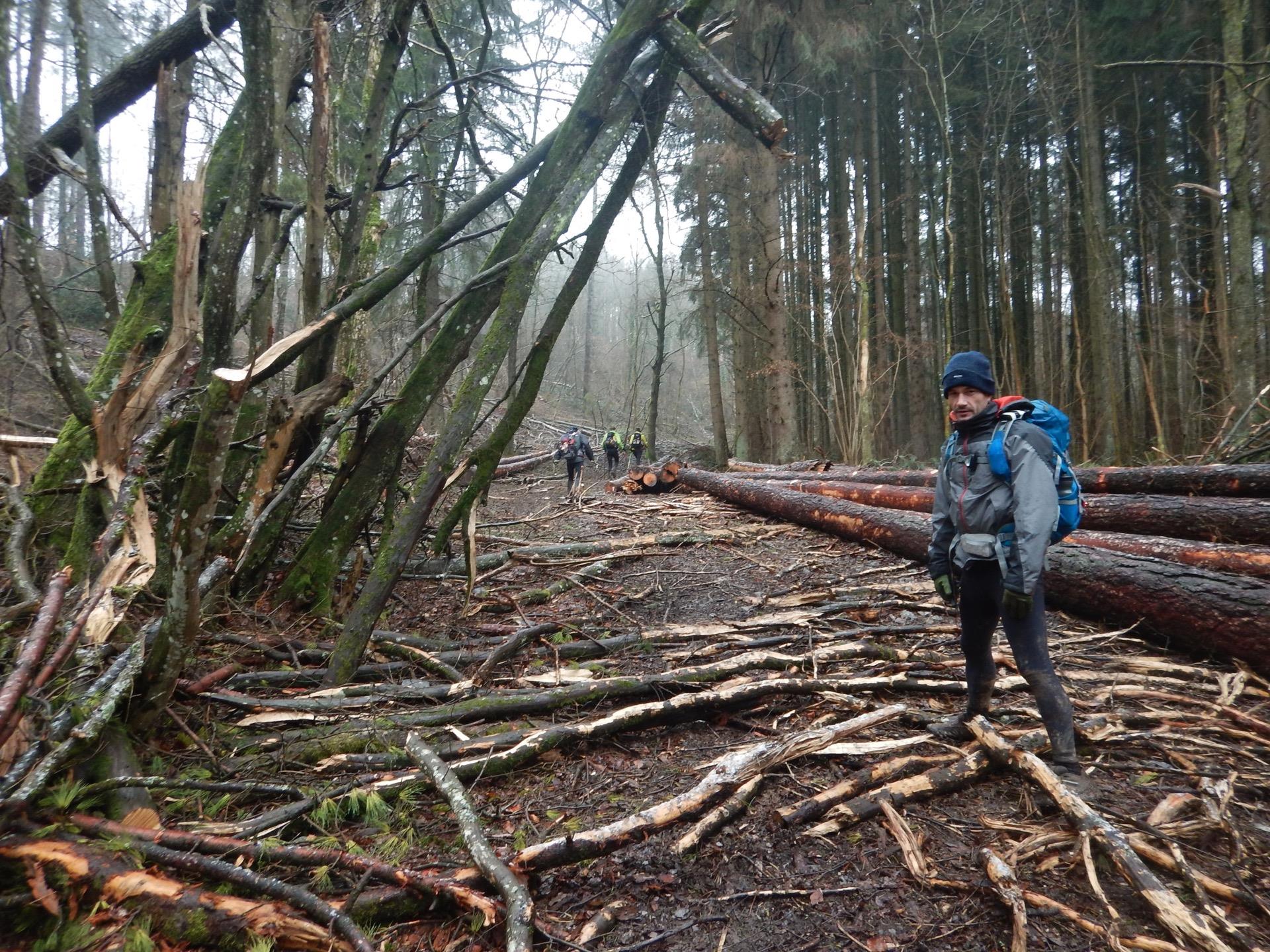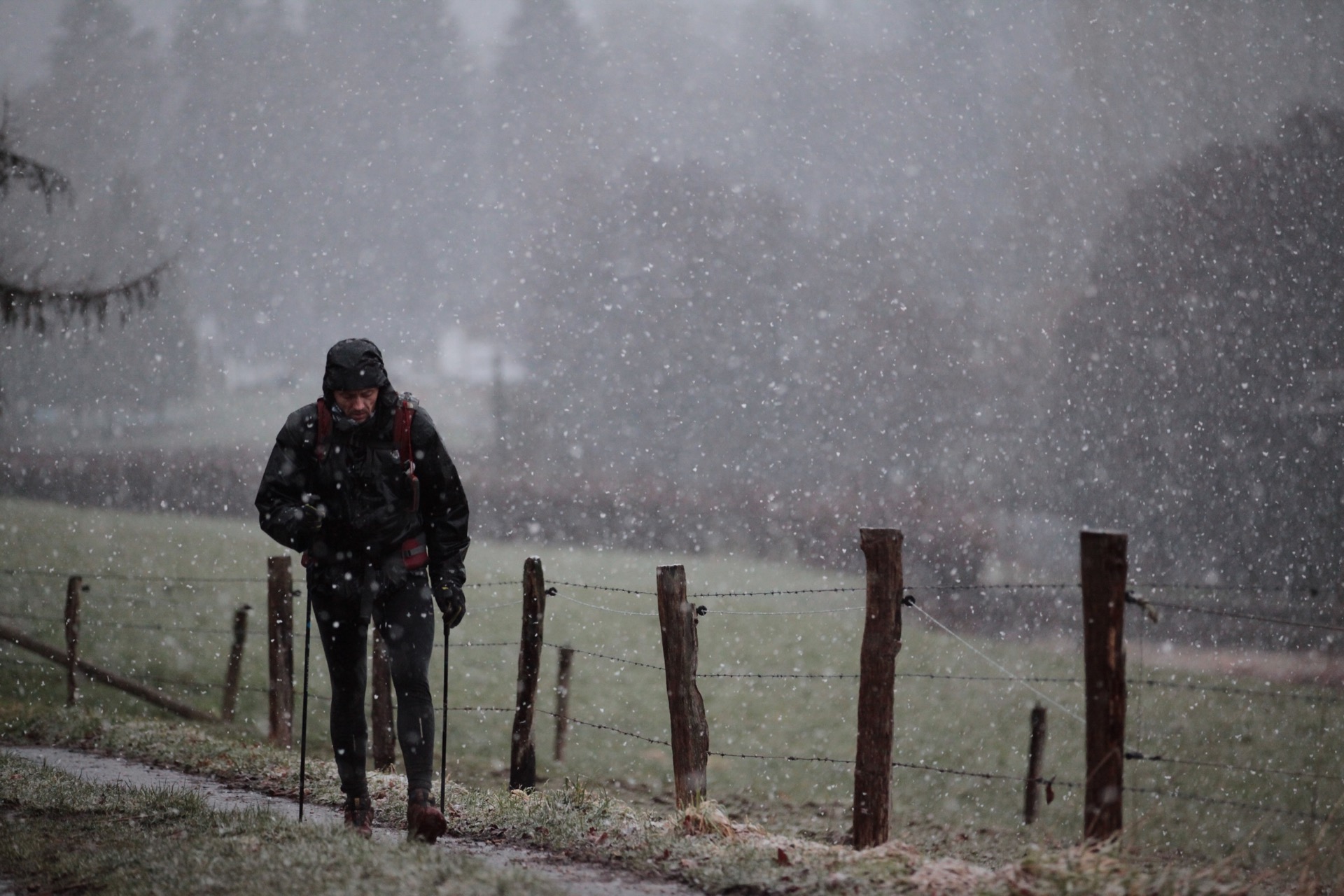 What materials to bring
What type of racevest or backpack and what to put in your drop bag are personal choices but for the LT it will be more than your ordinary trailrun.
Stuff to bring are the items on the mandatory list (see LT website) and things that might get handy (I will place my trailrun checklist later on this site as well).
Personally I always carry an emergency set of clothes that will keep me warm in case I slow down a lot. A dry fleece, dry shirt and a spare rain jacket. This might be convenient when you're not running so much anymore and are just speed hiking.
Put everything in zip bags. Things will get wet and dirty.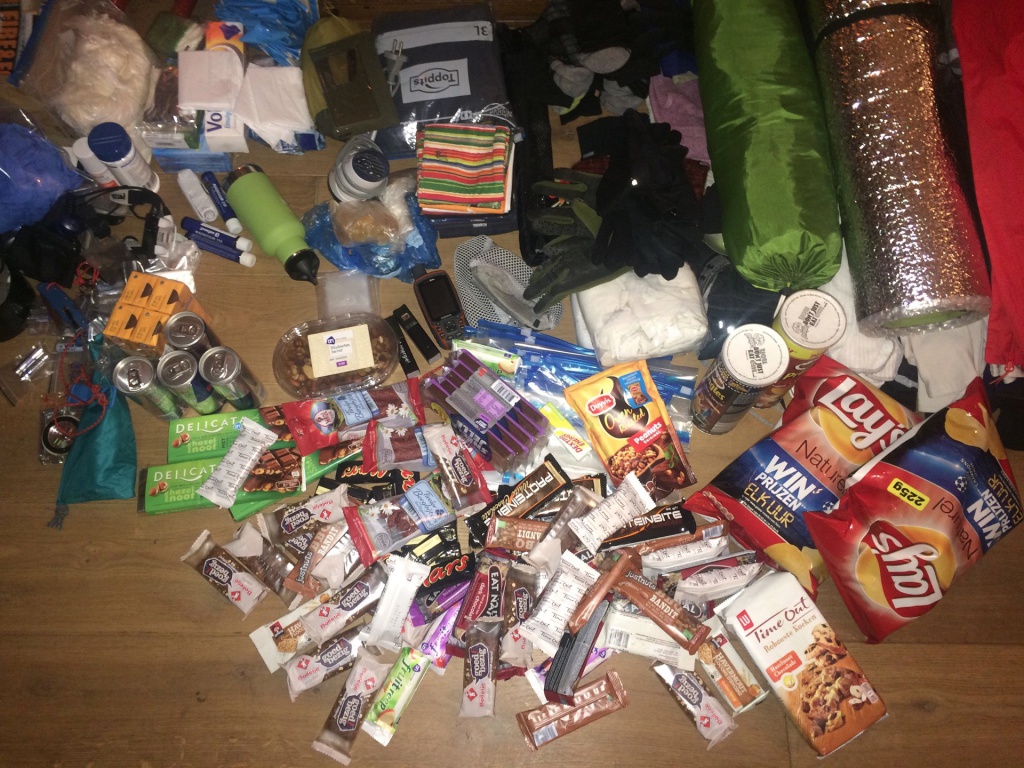 Train with your gear
Know the weight of your pack. Sometimes it seems a bit odd to go for 30 km run with a full running pack but do it and get used carrying a heavy pack. You have to get familiar with it. Also make sure you know blind where and in what pockets to find the stuff you need. Especially batteries, and food.
Also figure out how to distribute the weight of the heavier things. Many people tell you to put heavy things in the bottom of the pack. Personally I like to put them higher in the pack. This is something you don't want to find out during the LT.
After asking around a bit I think the average weight of the gear carrying during LT is around 7+ kg. Mine was even heavier but the coming LT it will be around this 7 kg as well
Navigation
Forget map and compass and put this mandatory stuff in the bottom of your pack. But make sure you know very well how to use this in case your GPS dies.
When running in a group make sure everyone has a task. The one up front is leading navigating with GPS, the ones behind check if the one up front is doing his job correct. Not a bad idea to even have someone using a map as backup.
Get a good GPS. Garmin GPSmap or Oregon series.
Get Lithium batteries so you don't have to worry about changing batteries of your GPS every 5 hours. Lithium lasts 24 hours and the weight is half of the alkalines (with Garmin GPSmap 64s with screen switching of after 30 secs).
Get used to navigating in the dark and trusting the track line to follow on your screen.
Know how to read elevation lines on the GPS and learn how to read to topo map on your small screen. Some people say you can't orientate on a small screen but this is very well possible.
It is very important that you have memorised the route and know exactly what part comes next. Maybe not in the smallest detail but at least roughly the parts that follow; forests, villages, roads, etc. Also important is to know what parts you think you will be running during the day and what parts at night.
Borrow a backup GPS and put it in your drop bag. I have seen people dropout because their GPS was not working anymore. And don't forget to put the track in that GPS as well.
When your GPS stops between CP's don't panic and find a buddy you can follow to the next CP. You can always put the GPS track in your watch for emergencies but don't rely on it for navigation the whole route. Therefor don't use your watch for recording during the race so you save the watch's batteries.
A few basic tips for your GPS can be found here… https://www.acceptnolimits.eu/tips/navigatie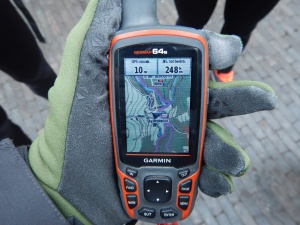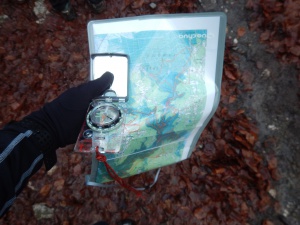 Organize yourself at checkpoints
Checklist in your drop bag.
A tip I've learned from Tim during the LT training weekend from last year was to put a checklist to follow on top of your stuff in your drop bag. At CP's this saves time, eases your mind and you will not forget a thing.
Agree on a time to leave the CP before you arrive at the CP.
At your first CP you will still be active and organised, know what to do and still have the motivation to do things quickly. This will not be the case anymore later in the race. You will arrive at a CP and you will not notice anymore that time flies and when not doing anything with a time in mind to leave the CP you will hang around way too long. Stay in race mode… also on CP's, they are not to relax, they are to get organized again.
Sleeping at CP's
This is a personal thing and there is nothing to say about it. Trying to sleep when not tired is a waste of time but recognise the signals that you need sleep and don't suppress them. An hour of extra sleep can and will get you back in shape and make the difference at the end. Some like to take short powernaps at each CP, others take a good rest later in the race. (2016 winner Michael Frenz slept for 4 or 5 hours at a certain point).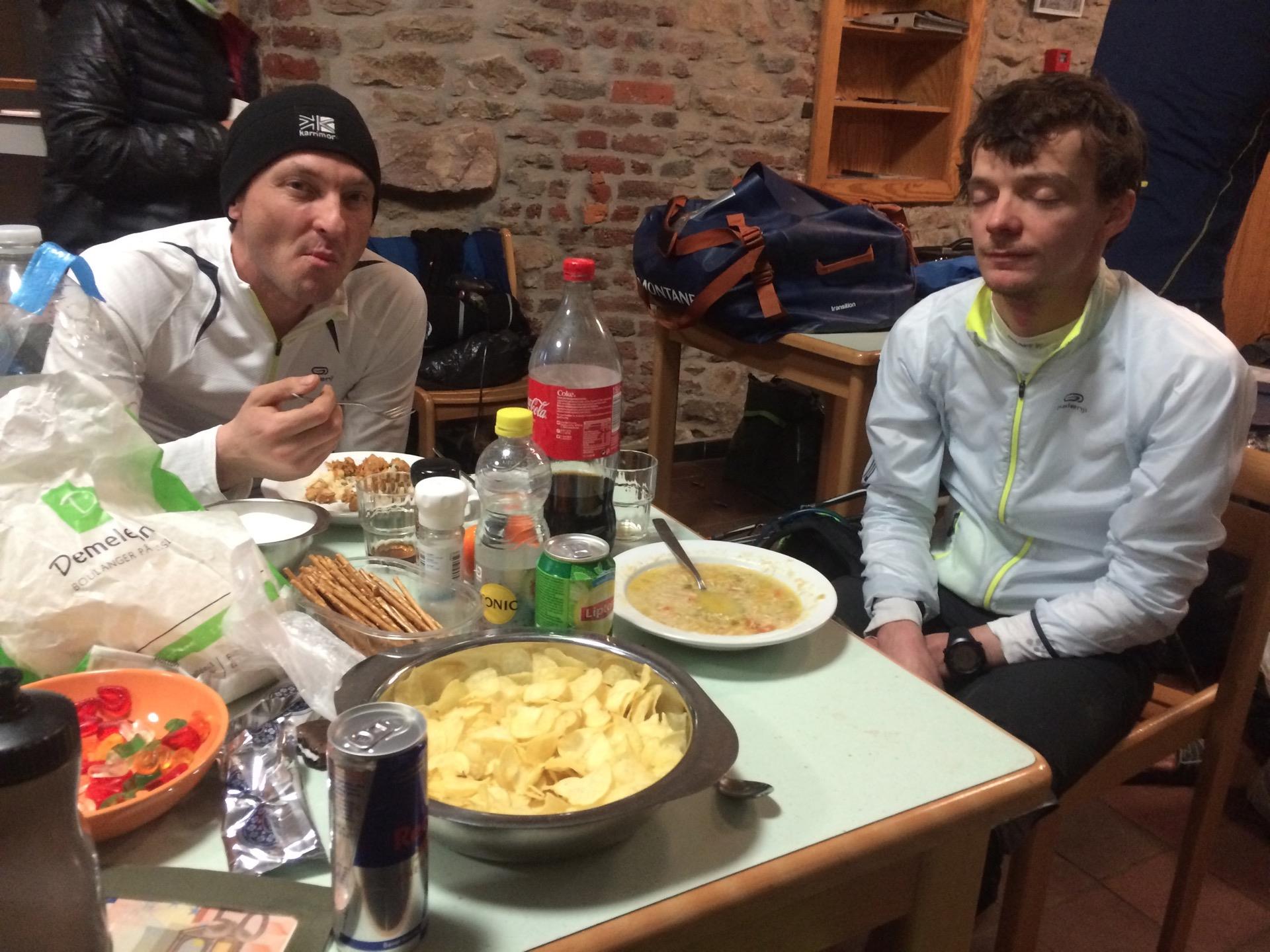 Nutrition and drinking
Nutrition
A very personal thing but learn to eat everything you can get your hands on during a race. Personally I like to carry lots of different kinds of food with me because I never know in advanced what I would like at a certain moment. Salty, sweet, soft, hard, etc.
Start with a good meal and do this again at every CP. In between use the stuff you carry and if possible get sandwiches, hot meals and other stuff in shops, bars, restaurants, gas stations, etc.
Even when not having a hungry feeling and you're not thinking of food eat.
Drinking
Drinking is just as important as during summer. When it is cold, and that is likely during LT and you're probably not running that fast that it will make you sweat a lot.
Again this is a very personal thing but make sure you keep drinking but not too much. Try to memorize the time when urinating and keep in mind that there should be some time pattern to this. The cold will not make you thirsty and therefore you might forget drinking.
Know the what to expect
It's s a good thing to know the terrain and know what to expect when it comes to weather, hours of light, etc.
It's a good idea to attend a recce when they are organized, or do it yourself.
During your recce make sure you keep an eye open for shelters, water taps, restaurants, supermarkets, bars, and everything that convenient in case you need something. Put these poi's in your GPS as waypoints. In case there is a need for something you know how to find it in your GPS.
Maybe there will be a moment where you want to take a rest and eat something which you didn't pack. It is good to know what restaurants (pizzerias) to expect in the closest town. Maybe they are in the street next to the one you're passing. For example, in Sy there are plenty of places where you can eat something and sit inside with your dirty clothes but they are at the waterside of the river passing that village and not in the street you're running parallel to it.
Remember… you will be out for many hours between CP's.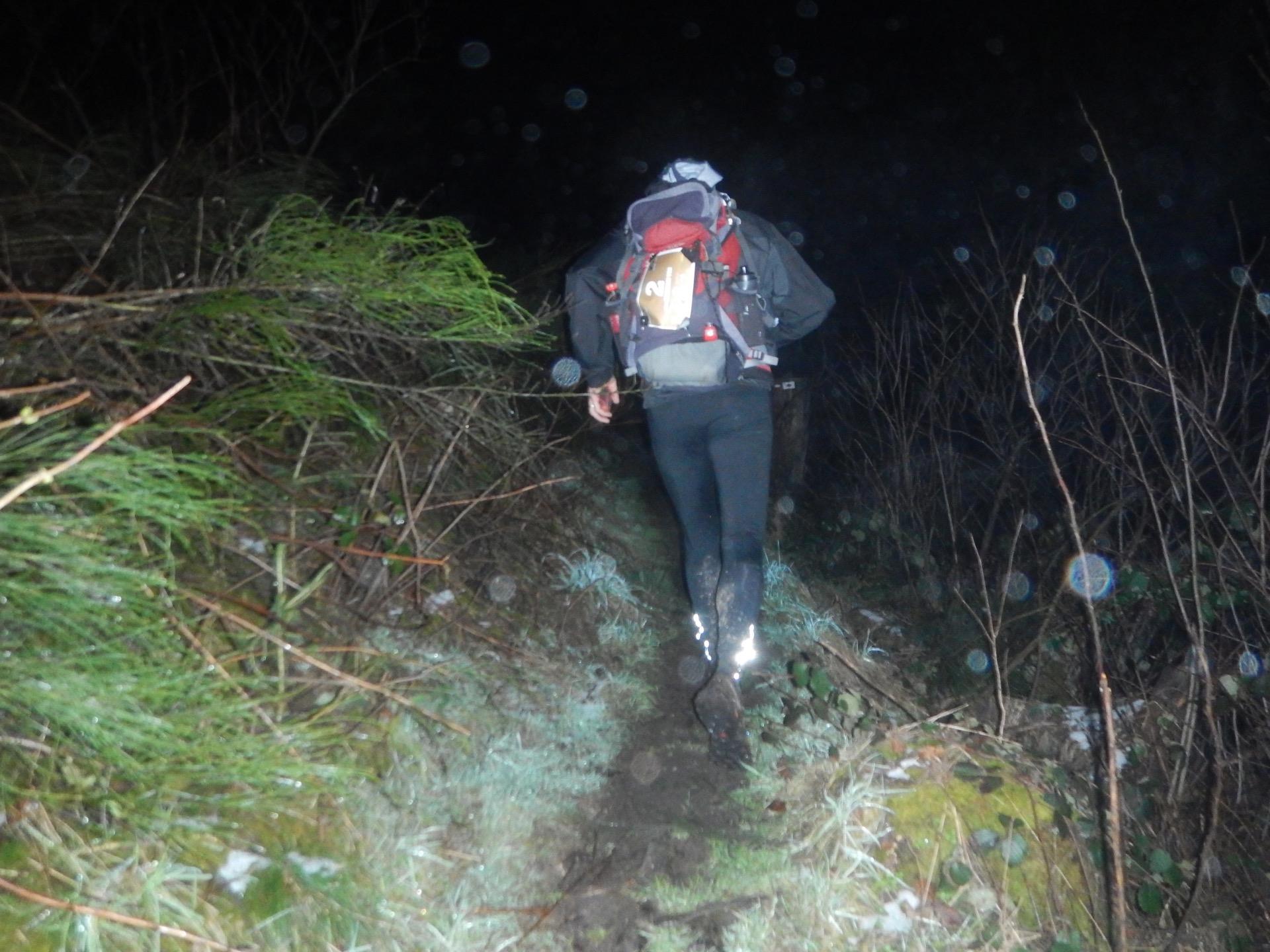 Feet
Make sure you take care of them the weeks before an if necessary get a pedicure to remove all irregularities.
Your feet will get wet after a few kilometres and stay wet until you get to a CP. Use the hairdryers (last year provided) there and if possible put one of your own in your drop bag.
You will probably put an extra pair of shoes in your drop bag but remember to save innersole from old shoes. Even when you tend to continue on the same pair of shoes put on a new pair of socks and put a dry pair of innersoles in your shoes. Try to keep your feet as dry as possible which will not be long on a journey as the LT.
The reason for most people to quit the race is there feet.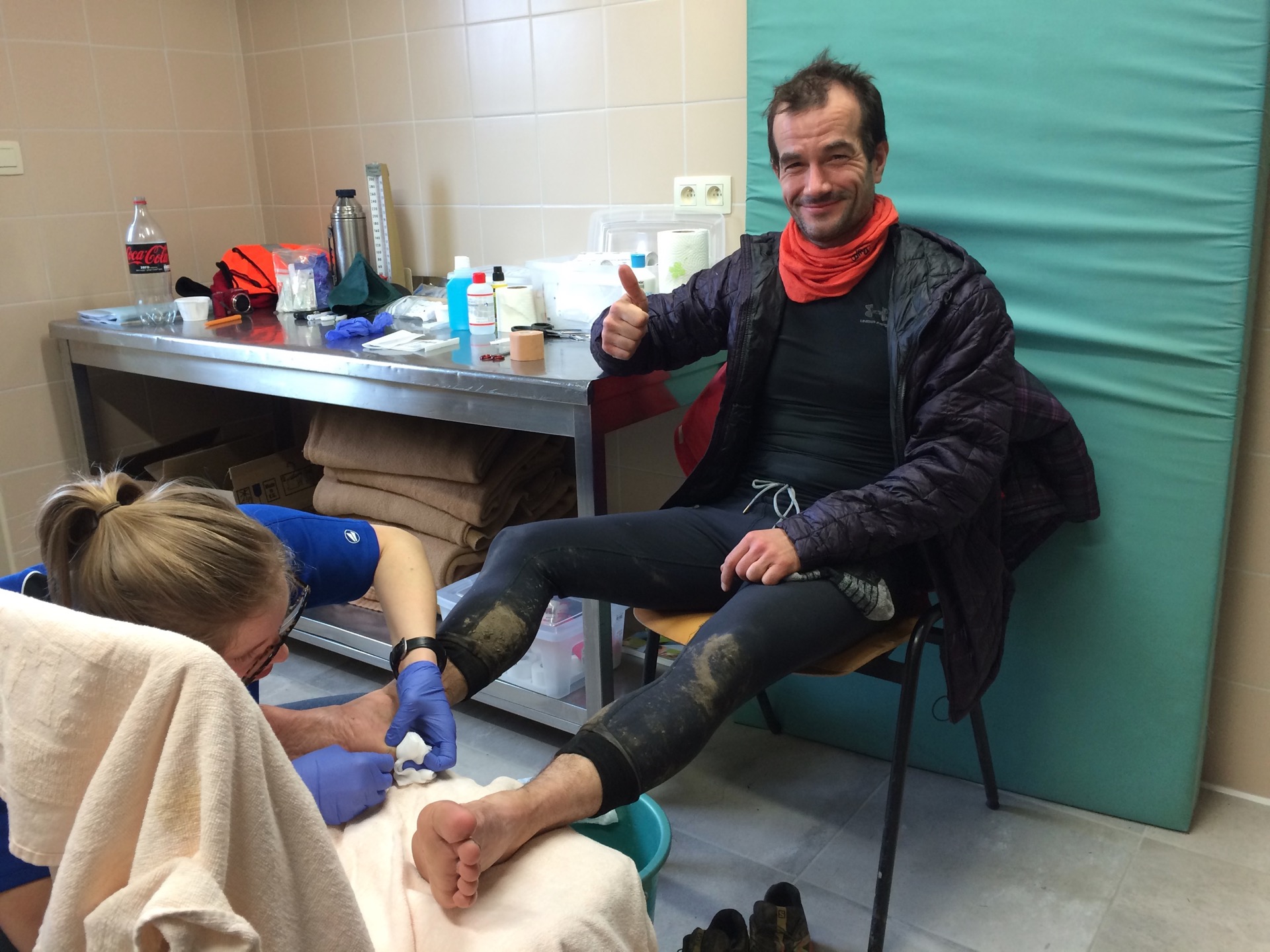 Running in the dark
Get used to running in the dark and not just for a short evening run. Make sure you make plenty of hours in the forest navigating on your own. The game changes when visibility is limited and you have they idea you are completely depending on yourself. You will learn that your equipment and especially your GPS will be your closest friend ever because this thing is the only thing that will bring you somewhere quickly.
Even if you think that the batteries you put in your GPS or headlight will last, change them before the night starts. I have seen people messing around for a while to change a pair of batteries. When it is raining, it is cold, dark and you're already running 24 hours or longer and getting tired this can be a disaster. 10 minutes standing still can get you cold and can change your game.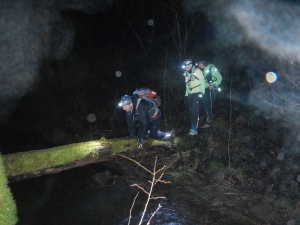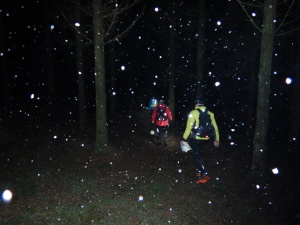 Forget any time schedule
Forget this because you will be out for about 60 hours and will nearly make the cut-offs. Especially in the second part of the race.
The difference between the fastest and the slowest in 2016 was around 4 hours and they were all very close to the cut-off time at the finish.
Don't run alone
Especially during the nights when conditions are NOT good.
Even when navigating with GPS you will get to points where things are not logical and it is good to discuss at this point.
Marek and I are very comfortable with GPS navigation and even we are having discussions at certain points. In a training we once split and tried our own route. At the end we stranded at the same point and lost 20 minutes or so. Make a decision and always stick together. Getting lost is better together than on your own. This is also a mental moment after so many hours. During the 2016 LT Luc Hapers spend an hour and a half finding his way in Niglinspo totally lost and this was probably the reason his body got to cold and was taken out of the race at CP4.
But running together is also not a guarantee that navigation will work. Sarah and Paige stranded at the bottom of Ninglinspo because there GPS didn't work anymore and got cold because they couldn't maintain speed.
Some useful information on hypothermia: https://www.acceptnolimits.eu/tips/hypothermia/
Mental vs physical
You will all be physical in shape in march but remember that the LT is a mental race that will bring you to a point where your body says STOP. You cannot train for this and you can only use the experience from situations you have had before in other long races. Most people will probably not do many training runs longer than 24 hours.
And as said before together your stronger and you will get further.
There is this African expression: "If you want to travel fast travel alone, if you want to travel far travel together"… LT is far!
Race reports
This does not only count for the LT it counts for all races. But for the LT it is good to read as many race reports as you can. Maybe at a certain point during the race you will recognize situations from others and will maybe give you some direction at a certain point.
(https://www.acceptnolimits.eu/legends-trail-verslagen-en-stukken-in-de-media)
Tips in general
Put on a rain trousers early in the race when it is cold and wet. This not only to keep the rain out but also to keep the heat inside.
Think in hours not in kilometres. Think of the LT as an adventure that lasts for a few days. It is definitely not your average trail run in the Ardennes.
Get your body in shape, some fitness exercise might be good to do but is a very personal thing.
From the beginning of the race… when it goes uphill (speed)hike!
NEVER decide to quit the race when you are having your worst moment in the race. Take a break and wait at least half an hour or longer before making a decision. If you don't do this, you will probably make the wrong decision and that is to stop.
When I got to CP3 I was thinking of giving up when I got there because of my feet. First after taking a nap and having food I made my decision to stop. Just before we wanted to get out for the next stage.
Get comfortable with your walking poles and GPS and know that you will probably be short one hand for your GPS. Put you're GPS on a cord and leave it dangling in front of your chest or put it somehere in a pocket there. If you need a few more tips on GPS you will find some basics here: https://www.acceptnolimits.eu/tips/navigatie.
Socks are a personal thing but wear socks you know. I will probably be wearing Injinji socks (https://www.iedereenloopt.be/brands/injinji-teensokken)
Bring anti-chaffing cream or something like that. After so many hours you will probably get friction burns here and there. (Buttshield (http://www.2toms.com/buttshield) or bodyglide https://www.bodyglide.com/shop/body).
Bring some Paracetamol (no other painkillers) to take of the sharp edges of pain and irritations later in the race. According to Geert Meese (Medical chief LT) you should not use more than 4 grams of Paracetamol in 24 hours.
Be confident that you can make it. If not don't show up at the start.
Race directors Stef & Tim on monday morning after the last person finished.